Muslim and Jewish communities uncover their hometown's heritage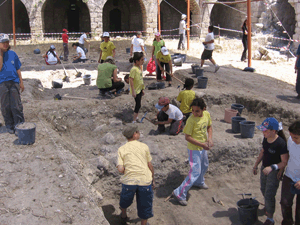 Together, Arab and Israeli children excavate the courtyard of an Ottoman khan, or roadside inn, as part of a school program in the Old City of Lod, Israel. Many enjoy the experience so much they return to the site after school hours, when adult community members also dig with volunteer archaeologists.
This neighborhood is really one of the worst in the country," says archaeologist Yuval Gadot, as we drive in his mud-splattered white jeep through the Old City of Lod in central Israel. On this sweltering late-June afternoon, we pass two women in lace-trimmed white headscarves and long-sleeved black dresses sipping hot tea in the shade of a concrete building, stray tabby cats scrounging for food along a filthy curb, and children on rickety bicycles weaving between discarded water bottles and scattered garbage. We pull into an empty parking lot as a glistening luxury 4x4 slinks around the corner. "Lod has become the center of drug dealings around the heart of Israel," he adds, as his eyes follow the vehicle. "People who come from Lod...their self-image is very, very low."
That is exactly what Gadot is trying to change through a dig with a dual purpose: to glean new information about a 200-year-old Ottoman khan, or roadside inn, and to reach out to the people who live in the area by inviting them to excavate it. Increasing awareness of Lod's cultural heritage, Gadot hopes, will instill pride in its residents and inspire them to take action to save its historical sites. "This," he says, "is not mainstream archaeology."
The excavation he codirects here with Taufik De'adle at the site of Khān el-Hilū joins a slowly growing number of community digs in the country, a new trend in the past decade. But their work in Lod is a groundbreaking endeavor: the first community-based dig in Israel where Arabs and Israelis, mostly children, are working together. "In the sense of crossing the line, mediating between the two communities," he tells me, "it's the only one." While there was doubt that the project would even get off the ground, it has surprisingly taken hold. And for three years now, Lod's residents have not only been learning about their city's past, but how to live together in the present.
Eti Bonn-Muller is managing editor at ARCHAEOLOGY.
Share