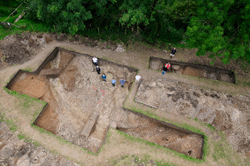 Archaeologists from the Stonehenge Riverside Project stand where megaliths were once placed at the newly discovered "Bluestonehenge." A circular ditch surrounded the site. (Copyright Aerial-Cam)
Over the past two years, archaeologists have unearthed evidence of a previously unknown stone circle less than two miles from Stonehenge. Dubbed "Bluestonehenge" by members of the Stonehenge Riverside Project, a consortium of researchers from several British universities, the circle may have once included 24 standing stones known as bluestones, six-foot-tall megaliths that were brought from quarries in the Preseli Hills 150 miles away. The new discovery supports the theory that Stonehenge was the center of a Neolithic ritual mortuary complex--"the domain of the dead"--while the nearby timber-post sites of Durrington Walls and Woodhenge were the "domain of the living" (see "Sacred Stones").
The team discovered the site while excavating at the end of "the avenue," a path from Stonehenge to the nearby Avon River. "It was a complete surprise for the circle to be there," says project codirector and University of Manchester archaeologist Julian Thomas. "But finding it makes sense in context. Perhaps bodies were cremated at Bluestonehenge, their ashes taken up the avenue to be buried at Stonehenge."
Though the team did not find any complete stones, they discovered fragments in holes similar to ones that once held Preseli bluestones at Stonehenge. "They were clearly taken away at some point," says Thomas. "They could have been taken to Stonehenge, and it's possible some of the bluestones standing there now once stood at Bluestonehenge."
Though Neolithic tools and arrowheads have been found at the site, only one radiocarbon date is so far available (an untimely leak to the UK's Daily Mail forced researchers to announce the find before their study could be completed). Bournemouth University archaeologist Timothy Darville, a Stonehenge expert who is not a member of the project, says it's too soon to say that bluestones stood at the site. "It's a fantastic discovery that really changes our understanding of how the avenue works," says Darville. "I hope they are right, but the little snag is that they don't have any unambiguous bluestones." Still, Darville says the discovery reinforces the idea that Stonehenge was part of an evolving landscape. "Stonehenge is really about constant change. There's not one architectural blueprint we can use to understand these sites. I'm sure there's more out there to be found."
Thomas agrees. "In the past there was a tendency to look at these monumental landscapes and feel we understood them," he says. "But the more fieldwork we do, the more the story keeps changing. It's important to do this kind of work rather than focus exclusively on the preservation of these sites. We still don't know what we're preserving."
Share