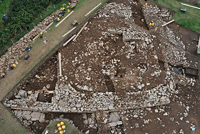 The newly uncovered Structure 10 (Orkney Research Centre for Archaeology)
The Heart of Neolithic Orkney World Heritage Site, designated by UNESCO in 1999, includes a number of impressive monuments, such as Maeshowe, the largest chambered cairn on Orkney; the Standing Stones of Stenness, a henge monument 144 feet across; the Ring of Brodgar, another henge, 304 feet across and the third largest in Britain. These tightly clustered remains--Stenness and Brodgar are just a mile apart--are set on and near the Ness of Brodgar, a narrow strip of land separating Harray and Stenness lochs. It is a stunning setting. What more could you ask for?
Well, what they have is a huge, 5,000-year-old Neolithic complex. Nick Card of the Orkney Research Centre for Archaeology is leading excavations at the site, on the Ness of Brodgar between the Stones of Stenness and Ring of Brodgar. He and his crew are uncovering several large buildings contained within a walled enclosure. The largest building is an 82-foot-long, 65-foot-wide stone structure with 16-foot-thick walls enclosing a cross-shaped inner sanctum.
The Neolithic cathedral as it is commonly referred to (officially it's Structure 10), may well have been the focal point of the entire complex of monuments here. Running along the massive wall is a paved walkway, with a second wall enclosing it. Those going into the building may have gone along the walkway, roofed over and a darkened passage, to the sanctuary, which was relatively small. Card suspects that access to the inside of the building might have been restricted, which reminds me of the Neolithic temples on Malta (not to say they are related, but the same limited access has been proposed for Malta's megalithic structures).
In a sense, the Orkney monuments form a complex, interlocking web. For example, Structure 10 is aligned to face the chambered cairn Maeshowe, and one of the entrances to Structure 8 at Barnhouse, another site, has one entrance also aligned with Maeshowe. And the passage of Maeshowe is illuminated by the winter solstice sun. The two henges, the Ring of Brodgar and the Stones of Stenness, have been interpreted as symbolizing, respectively, the land of the dead and the land of the living. So, what about Structure 10, which is between the two?
Two fragmentary human remains have been found in Structure 10, but outside it are abundant potsherds and cattle bones, likely the debris from feasting. Its exact function is not yet clear, but it's obviously a key component of the ceremonial landscape. The size of the building--unmatched in this period--shows that if nothing else does. Card says it would have been constructed to "amaze" and "awe" those who saw it. Five millennia later, it still amazes.
Share