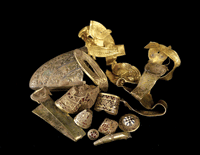 (Dave Rowan and Daniel Buxton/Birmingham Museums and Art Gallery)
In July 2009, the largest-ever hoard of Anglo-Saxon gold was found buried in a farmer's field in Staffordshire, central England. Discovered by Terry Herbert, a metal detectorist, and then excavated by the Birmingham University Archaeology Unit, the hoard consists of more than 1,500 gold and silver items, all dating to the seventh century. The find is far larger than other significant Anglo-Saxon hoards, such as those discovered with the contemporaneous noble burials at Sutton Hoo in southeastern England.
Most of the artifacts are associated with warfare, including helmet fragments engraved with a frieze of running animals and elaborate gold sword hilts inlaid with garnets. In some cases, rivets were still attached to the hilt components, suggesting they were ripped off the weapons and hidden quickly. "It looks like war booty, perhaps taken from the troops of an Anglo-Saxon King," says Ian Wykes, head of archaeology at Staffordshire County Council. "By losing these prized objects, the king would have lost his status and authority."
The eighth-century poem Beowulf suggests there were frequent battles between kings and nobility during this time, dubbed the Insular Period because of the relative isolation of the British Isles from the rest of the Europe. But some items from the hoard suggest that England may not have been as cut off from developments on the continent as previously believed. "The garnets would have come from Sri Lanka, indicating that there was still some form of long-distance trade during that time," says Wykes.
Share