The AIA establishes a new award for popular books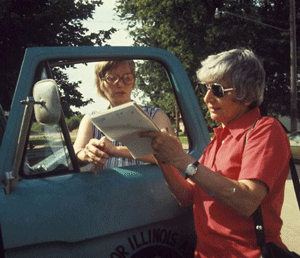 Felicia Holton interviewing Alice Struever (Center for American Archeology, D.R. Baston)
Bringing the excitement of archaeology to the public is a critical part of the Institute's mission. As AIA president, I am particularly proud of the ways in which this magazine works with the Archaeology website to achieve this objective. In this issue, for example, you can read about the discoveries selected by the editors as the year's 10 most important. Online, you can check the daily archaeological headlines and follow ongoing investigations at sites from El Carrizal, Mexico, to Zominthos, Crete. No one else brings such extensive worldwide coverage of archaeology to so many people.
But others deserve recognition for their efforts in this area, too, and AIA is now establishing an award honoring nonfiction archaeology writing for the general public. Joining us in this is the Center for American Archeology (CAA), which is dedicated to scientific inquiry, outreach, and stewardship of North American cultural resources. A pioneer in public outreach, the CAA engaged the interest of thousands of students of all ages during the decadelong excavation of the Koster site in the 1970s, when it began avocational field schools for adults and students. The CAA continues these initiatives to this day. More members of the public learned about Koster, a deeply stratified site in Illinois spanning 10,000 years of human history, through the popular book Koster: Americans in Search of Their Prehistoric Past (1979). Written by archaeologist Stuart Struever and journalist Felicia A. Holton, it appealed widely to the public and excited the interest of generations of students.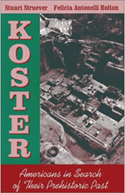 It seems fitting that this new award be named for Holton in recognition of her neglected but groundbreaking role in this arena. "Felicia Holton was a full partner in creating the Koster book, which set a high standard for engaging the public in the excitement of archaeology," says Jane Buikstra, president of the CAA. "Felicia was careful of detail--except when she called me a 'Saks model.' Her approach to the project ensured that the public received accurate information in a highly readable form."
The Felicia A. Holton Book Award will be given annually to a writer who, through a major work of nonfiction, conveys the importance and excitement of archaeology to the general public. It will be presented at the AIA's Annual Meeting beginning in 2011. We encourage submissions for this award, about which authors and publishers may read more at www.archaeological.org/holton. "The Felicia A. Holton Book Award reminds us how crucial it is to communicate about our global heritage, and how fragile this heritage is," says Buikstra. "She stepped well beyond the 'oh wow!' and wrote responsibly, engagingly, and with the enthusiasm born of deep professional dedication."
C. Brian Rose is the president of the Archaeological Institute of America.
Share