A remote valley in southeastern Iran may have been the home of a civilization at the heart of the ancient world's first globalized economy
| | |
| --- | --- |
| | Excavations at the mound called Konar Sandal South in southeastern Iran have revealed a fortified citadel the site's director Youssef Madjidzadeh believes are the remains of a third-millennium civilization that challenges assumptions about the roots of civilization. (RAD-ESLAMI/Gamma) |
Youssef Madjidzadeh is insistent. "There is no difference between Jiroft and Sumer," says the white-bearded 72-year-old archaeologist. We're in the lobby of a hotel on the grounds of the shah's former summer place near the Caspian Sea in northern Iran. The bold claim is an exaggeration at best, and a view shared by few of his colleagues. But there is no doubt that the dig he directs near the modern city of Jiroft in southeastern Iran is reshaping the way we understand the emergence of civilization.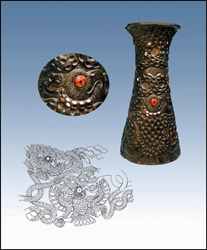 Some of the elaborately carved chlorite vessels from Jiroft are inlaid with semiprecious stones. (Y. Madjizadeh/Gamma)
In Tehran, thousands of people are in the streets protesting the results of the recent election that gave Mahmoud Ahmedinejad another term. But here, a six-hour drive over the craggy Elburz Mountains from the capital, foreign and Iranian archaeologists have gathered amicably to discuss ancient Iran's relations with the larger Bronze Age world. Much of the discussion revolves around the role of Jiroft as a wealthy and powerful center during the first flowering of urban culture nearly 5,000 years ago.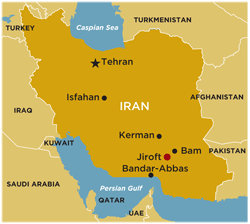 For a century, the story of civilization was thought to have begun around 3000 B.C. in Sumer in southern Mesopotamia. There the first cities, monumental palaces, and temples were built, and one of the first writing systems developed. Several years ago, Madjidzadeh upset that archaeological gospel by contending that Jiroft is every bit as large and important as Sumer. And maybe even older. His first published volume on the site is titled The Earliest Oriental Civilization (2003). These dramatic assertions made headlines in Iran and around the world.
No one at the meeting contradicts him. The foreigners are too polite and the Iranians seem intimidated. Madjidzadeh remains defiant, even as the data his team has gathered demonstrates that Jiroft's heyday was from 2500 B.C. to 2200 B.C., a millennium or more later than the earliest remains of cities in Mesopotamia. "It was necessary to say that at the time, in order to have the attention of the world," he says, leaning back on the sofa. "I think I did the right thing."
Andrew Lawler is a staff writer for Science magazine. He lives in rural Maine.
Share