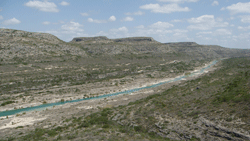 (Courtesy of SHUMLA)
The New World's most vivid collection of prehistoric art is on the border of Texas and Mexico, where the Pecos and Devils rivers flow into the Rio Grande. More than 300 sites in the area are decorated with rock art that dates from 5,000 years ago to historic times. If you're going to visit only one of these sites, archaeologist Solveig Turpin suggests a trip to the rock shelter called Cedar Springs on Devils River.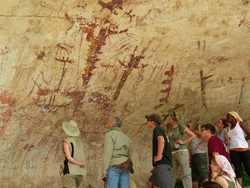 (Courtesy of SHUMLA)
The Artists: The people who created Cedar Springs worked in the Pecos River-style artistic tradition, which spread across the area some 3,000 to 5,000 years ago. They used their pictographs of shamans, deities, and skeletonized animal forms to "record their concept of a supernatural universe, where magical flight, animal transformation, and communion with the spirits were not only possible but essential to their survival," says Turpin. The pictographs may also encode mythic or historical narratives.
The Site: After the Pecos River style was identified by archaeologists in the early 20th century, Cedar Springs remained relatively unknown, thanks to its isolated location along Devils River. Don't miss the site's rare depiction of a possible shaman, "a multicolored figure in profile, with power lines extending from its fingertips," says Turpin, who calls a visit to Cedar Springs a meditative experience.
Experiencing the Rock Art: Cedar Springs is on privately owned land, but it and many other sites in the area can be visited on tours offered by the Rock Art Foundation, Inc. (www.rockart.org) and the Shumla School (www.shumla.org). The nearby Seminole Canyon State Park and Historic Site is another excellent place to explore rock art.
Share