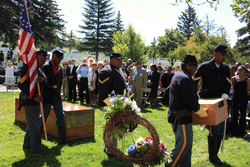 (Courtesy Bureau of Reclamation)
The 64 soldiers and civilian men, women, and children left behind in the cemetery at Fort Craig, a Civil War-era outpost near Socorro, New Mexico, finally have peace. The cemetery came to the attention of federal authorities in 2005, as part of an investigation into criminal looting of the site--including the theft of the remains of Buffalo Soldiers who served and died at the fort ("The Case of the Missing Buffalo Soldier," March/April 2009).
Following a criminal investigation that identified one of the Southwest's most destructive looters, federal authorities decided to exhume and rebury any additional remains to keep them safe from illegal digging. In late June, 61 bodies were reburied at Santa Fe National Cemetery. The last three sets of remains were identified by physical anthropologists as Privates Levi Morris, David Ford, and Thomas Smith (the soldier whose looted skull sparked the investigation). These three were buried with full military honors in a ceremony attended by Buffalo Soldier reenactors on July 28, National Buffalo Soldier Day. However, some looted remains--investigators determined 11 graves had been hit--are likely lost forever.
Share