Features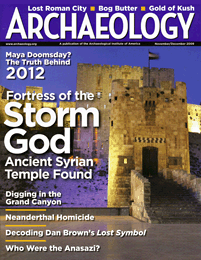 (Cover Photo: Serdar Yagci/iStockphoto)
Temple of the Storm God
A 5,000-year-old sanctuary emerges from beneath Aleppo's medieval citadel
by Andrew Lawler
Korea's Iron Man
The startling discovery of a fully armored fifth-century A.D. warrior
by Hyung-eun Kim
Apocalypse Soon?

Full text!What the Maya calendar really tells us about 2012 and the end of time
by Anthony Aveni
Expedition: Grand Canyon
Saving endangered sites on the Colorado River
by Julian Smith
Archaeology of the Homeless
Can scholars help the 800,000 Americans living on the streets?
by Nicole Albertson
The Subatomic Dig
How a particle accelerator in France has revolutionized artifact analysis
by Victoria Schlesinger
Departments
From the President
Eternal Egypt
Exploring the civilization on the Nile
by C. Brian Rose
In This Issue
Cosmic Rigmarole
by Peter A. Young
Letters
Sioux by any other name, picking a home for the Elgin Marbles, and humans carving Neanderthals?
From the Trenches
Before there was Venice, Neanderthal attack, Maya time travel, Irish gold and bog butter, naked archaeology, Devils River rock art, sororities and the Civil War, honoring Buffalo Soldiers, a knight's flesh wounds, and a smelly moat
Conversation
Expanded online-online version!
A Washington, D.C., archaeologist goes inside the beltway to tell us what Dan Brown's The Lost Symbol missed about the capital's history
Insider
Full text!
The Navajo Nation's controversial claims to Ancestral Puebloan sites and the latest on the tribe's arrival in the Southwest
by Keith Kloor
Letter from Sudan
Full text!
As dam waters rise, a team races to salvage the remains of the Kingdom of Kush
by Geoff Emberling
Artifact
A humble, rusted medallion connects a conservator with a nun who cared for Hawaiian leprosy victims