Good news from Baghdad and beyond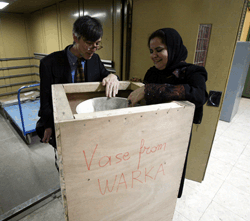 AIA president C. Brian Rose and Dr. Amira Edan at the Iraq Museum (Courtesy Tina Hager)
In April I flew to Iraq at the invitation of Diane Siebrandt, the Cultural Heritage Liaison Officer at the American Embassy in Baghdad. With me was Laurie Rush, archaeologist at the U.S. Army's Fort Drum, who created the Cultural Heritage Awareness Playing Cards that were featured in ARCHAEOLOGY ("Desert Solitaire," July/August 2007).
Although I've been lecturing about ancient Mesopotamia continually since the war began, I wasn't quite sure what to expect on the ground. A high level of security was necessary when traveling, and learning how to move in body armor took some time.
We flew south in a helicopter to Tallil Air Base, which lies literally in the shadow of ancient Ur, the legendary birthplace of Abraham. Ur was excavated by the University of Pennsylvania and the British Museum in the 1920s and '30s, and I was interested in assessing the condition of the monuments at the site. What surprised me, in particular, was an elaborate reconstruction of an early second-millennium B.C. house, supposedly that of Abraham. Saddam Hussein had ordered the work done in 1999 in expectation of a papal visit, and essentially created the same kind of grandiose mansion for Abraham as he had for himself.
I was initially worried that there would be signs of looting at every archaeological site we visited or flew over. Although extensive plundering was clearly visible from the helicopter, there were many sites such as Ur and Uruk that have been continually protected from looters, often by the families that live nearby.
A highlight was our tour of the renovated Iraq National Museum by the director general, Dr. Amira Edan. Most of the objects stolen from and repatriated to the museum are not on display, but she showed me the famous alabaster vase from Warka (ca. 3000 B.C.), still in a protective crate. Among the most important objects ever recovered in Mesopotamia, it bears one of the earliest religious narratives, including a procession of figures with offerings for the goddess Inanna. Being able to touch it was, for me, a profound experience. A girls' school group entered the museum as we were leaving, and it was good to hear the halls filled with their laughter and enthusiasm.
The cultural officials with whom I met are eager to establish collaborative relationships and exchange programs with American institutions, and this is an area in which the AIA can play an important role. All of the Iraqis I encountered were incredibly friendly and supportive, and in general, I found great optimism for the future.
C. Brian Rose is the president of the Archaeological Institute of America.
Share