Antiquities Under Fire
Volume 62 Number 3, May/June 2009
by Mati Milstein
Is there a future for archaeology in the Gaza Strip?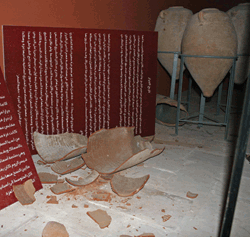 Fighting in January damaged artifacts, signage, and display cases in the newly created Gaza Museum of Archaeology. (Courtesy Jawdat N. Khoudary)
Once the bullets stopped flying, Palestinian businessman Jawdat N. Khoudary saw that his worst fears were realized. The Gaza Museum of Archaeology, which he founded only six months before, had been damaged when Israel launched Operation Cast Lead at the end of December with a series of air strikes on Hamas targets across Gaza. Returning to the museum in February--after Israeli ground forces had withdrawn and a fragile cease-fire was in effect--Khoudary surveyed the shattered display cases, broken ceramics, fallen ceiling tiles, and walls pockmarked by bullets and tank rounds. There was a lot of structural damage to the building, and some displays, including amphorae from the Hellenistic, Roman, and Byzantine periods, were destroyed. An Islamic oil lamp stand from the Mamluk period (A.D. 1244-1517) was also broken. "Maybe I made a mistake when I established this museum," Khoudary says. Fortunately, the museum was shut down when the war started and none of its Palestinian employees were harmed. As of today, it remains closed. It's difficult to know whether the damage was done by the Israeli military or Hamas gunmen.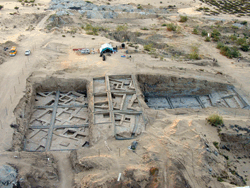 An aerial view of the excavations at Tell es-Sakan shows houses dating to 2600-2300 B.C. (left) and fortifications from the late fourth millennium B.C. (right). (Courtesy Pierre De Miroschedjii)
Meanwhile, there are reports of damage to ancient sites in the Gaza Strip. Heavy fighting and armored bulldozers in the north-central region threatened the Early Bronze Age (3300 and 2200 B.C. ) site of Tell es-Sakan on the outskirts of Gaza City. It was initially discovered during a building project started by the Palestinian Authority in the late 1990s. In 1999, Moain Sadeq, founder of Gaza's department of Antiquities, along with French archaeologist Pierre de Miroschedji, began an exploratory dig. Soon they made an exceptional discovery--mud-brick fortification walls dating to 3200-3000 B.C. This makes Tell es-Sakan--which de Miroschedji and Sadeq believe was the administrative center of the Egyptian colonies in the region--the oldest fortified site known in either Egypt or Palestine. But the excavation trenches may have been used by Hamas to store mortar shells and rocket batteries during the most recent fighting, making them a likely target for the Israeli military.
Of course, damage to archaeological sites can be exploited--and sometimes exaggerated--by either the Israeli or Arab side to engender sympathy in the propaganda war. Initial reports or claims of destruction make a stronger impression than follow-up investigations into alleged damage, which often happen after the media spotlight has moved on to the next story. One expert who has excavated in Gaza cautions that it is crucial to determine the chronology and cause of damage before assigning blame.
Mati Milstein is ARCHAEOLOGY's Israel correspondent.
Share