Mystery in Bermuda
Volume 62 Number 3, May/June 2009
by Elizabeth Gehrman
How did the bodies of two important historical figures end up beneath the floorboards of a church?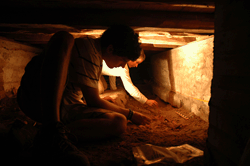 Archaeologists Travis Parno and Sarah Ayers Rigsby excavate the remains of a former colonial governor in the suffocating space beneath St. Peter's Church in the historic Bermudian town of St. George's. (Courtesy Archaeology Committee, Bermuda National Trust)
I wasn't there for the beginning of the dig because I'm rather claustrophobic," says Travis Parno, a tall, soft-spoken grad student. "But this was easily the most fascinating find of my short career, so I sucked it up and went down. It was pretty scary, especially the first time."
Parno, who is working toward his doctorate in historical archaeology at Boston University, was part of a team--led by his classmate and best friend, Brent Fortenberry--that spent last summer beneath the floorboards of St. Peter's Church in the colonial town of St. George's, Bermuda. They had been invited by the Reverend David Raths, the priest in charge of the Anglican church, to search for the remains of the original cedar structure erected in 1612.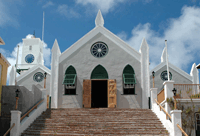 St. Peter's Church (Courtesy Bermuda National Trust and Lynn Thorne)
It wasn't easy. The church had been rebuilt and renovated many times in its history, so the area beneath it is divided into small chambers and narrow crawlspaces by forgotten walls and support beams, tightening the room in which the excavators had to work to just 18 to 36 inches. The archaeologists had to contort themselves and lie on their stomachs to dig in the airless, hot, humid space.
"My hands were shaking," Parno recalls. "It was very, very cramped, very dirty. My back was scraping up against the floorboards. But the magnitude of the find just bowled me over. I sort of forgot about my claustrophobia." What compelled Parno to overcome his anxiety and disregard the fact that he was sandwiched between rocky ground and ancient floor joists? Skeletons. Skeletons in a place no one expected, and with artifacts identifying them as the remains of two important men in Bermudian history.
Elizabeth Gehrman is a freelance writer living in Boston.
Share