A fresco from a dining room discovered near Pompeii depicts the muse Calliope and dates between 100 B.C. and A.D 100. (Soprintendenza Speciale per I Beni Archeologici di Napoli e Palermo, Museo Archeologico di Pompei)
Many exhibitions on Pompeii don't explore the city before it was destroyed by the eruption of Mount Vesuvius in A.D. 79. So I was relieved when I entered Pompeii and the Roman Villa: Art and Culture around the Bay of Naples, at the National Gallery of Art in Washington, D.C., and was welcomed into a posh Roman villa with frescoed walls, colorful mosaics, marble and bronze statues, and a central courtyard open to the sky. Exhibition cases filled with gleaming silver cups and shining gold jewelry evoke what upper-class life was like in the ancient city. The highlight of the show is a replica of the triclinium, or formal dining room, found in 2000 near Pompeii. Standing inside the deep-red dining room is a rare experience because many similar buildings in Pompeii are closed to the public. Other rooms mimic a peristyle (interior courtyard) garden and reminded me of the need for a refuge from the southern Italian heat.
The last gallery shows Pompeii's impact on art and aesthetics since its discovery in the late 18th century. For fans of death and destruction, the exhibition also includes a display on the eruption. These sections feel a bit tacked on. I would have liked to stay in the villa.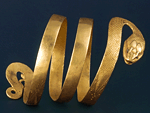 This serpent-shaped gold bracelet was one of the many precious objects left behind when Mount Vesuvius erupted. (Soprintendenza Speciale per I Beni Archeologici di Napoli e Palermo, Museo Archeologico Nazionale di Napoli)
The National Gallery's exhibition coincides with the release of Mary Beard's The Fires of Vesuvius: Pompeii Lost and Found (Harvard University Press, $26.95). Beard points out that even after more than 250 years of excavation at the site, "We simultaneously know a huge amount and very little about ancient life there."
Beard conveys detailed information about life in the city. She examines the connection between public bathing and sex, and gives a novel interpretation of the erotic frescoes in the Suburban Baths. These scenes of athletic group sex, each of which is paired with a number, have sometimes been interpreted as a menu of sexual options. But Beard concludes that the numbers probably mark storage cubbies, and the erotic paintings were just an amusing device to help customers remember where they left their clothes. She also discusses current research on the city's topography and development, emphasizing that unlike today's city planners, Pompeii's developers didn't create zones for certain kinds of activities. For example, Beard describes the elegant House of the Vestals, located just inside one of the main city gates, and its neighboring blacksmith workshop, bars, and restaurants.
One of Beard's most interesting points is that even though we imagine Pompeii frozen in time, as its people went about their daily business, when Vesuvius erupted, it was actually a city in flight. Perhaps the bread found still baking in the ovens doesn't mean that the bakers were ignoring the volcano's rumblings. They may have been scrambling to feed a panicking populus as it fled the city.
Pompeii and the Roman Villa: National Gallery of Art, Washington D.C., October 19, 2008-March 22, 2009; Los Angeles County Museum of Art, May 3-October 4, 2009
Jarrett A. Lobell is executive editor at ARCHAEOLOGY.
Share