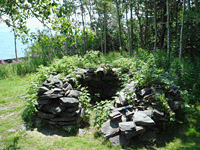 (William Moss)
Parlez-vous français? If your answer is "huh?" you've probably never been to Québec's île aux Basques, a favorite site of William Moss, chief archaeologist for the City of Québec.
The island: Headquarters for Basque whalers from about 1580 to 1640, île aux Basques lies in Canada's Saint Lawrence River, a five-hour drive from Qu&eaacute;bec City and a three-mile ferry ride from the town of Trois-Pistoles (Three Pistols).
The site: Basque whalers harpooned their prey close to the mouth of the nearby Saguenay River and then towed them to the island's tidal flat for butchering. The most visible remains of the island's whaling days are three round stone ovens that held trypots, copper cauldrons used to render whale fat into oil.
If you're planning to go: The island is owned by the nonprofit Société Provancher du Canada (www.provancher.qc.ca) and you need the society's permission to visit. There are two organized tours per day (in French only) with a maximum of 15 people per group. Three cottages on the island are available for overnight visits of up to three days, but you must bring your own food and water.
After you've had your fill of archaeology: île aux Basques is also a renowned bird sanctuary, visited by at least 100 migratory species, including the great black-backed gull and the double-crested cormorant. A 90-minute ferry ride from Trois-Pistoles takes you to a fantastic whale-watching site, where you'll see some of the 13 species that visit the area, including humpback, blue, and right whales. Just be sure to leave votre harpon at home.
Share