Honoring Henry T. Wright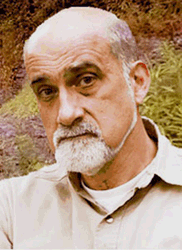 Gold Medal Winner Henry T. Wright (Kenneth Martin)
Each year the Archaeological Institute of America recognizes an outstanding archaeologist with its Gold Medal. For 2008, the winner is Henry T. Wright, a professor of anthropology at the University of Michigan and curator of Near Eastern Archaeology at the university's Museum of Anthropology. The AIA Gold Medal recognizes Wright's exceptional contributions in fieldwork, publishing, and teaching.
Throughout his career, Wright has focused on early state-level societies, beginning in 1965 when, as a University of Chicago doctoral student, he directed a survey around the Mesopotamian city of Ur. He spent many years carrying out excavations and surveys in southern Iran, studying the development of the first state administrations and urban economies between 4500 and 2500 B.C. After the 1979 revolution in Iran stopped archaeological research, he began studying the development of the more recent, but poorly understood, civilization on Madagascar off the southeast coast of Africa. With an international team of archaeologists and enthusiastic Malagasy students, he pursued a program of archaeological exploration and research across the island.
"Wright developed a conceptual framework that has structured the study of state evolution for the last 40 years," says Gil Stein, director of the University of Chicago's Oriental Institute. "His work has shown how chiefdoms function, and how we can study their development into highly centralized, powerful state societies. He has combined theoretical innovation with an extraordinary record of fieldwork around the world."
Wright's global breadth and depth are reflected in his publications, from detailed archaeological reports to major theoretical discussions, ranging from the earliest, at age 16, "An Archaeological Survey of the Upper Potomac Valley," in The West Virginia Archaeologist (1959), to the classic paper "Prestate Political Formations" (1984), to his latest endeavors, such as Early State Formation in Central Madagascar (2007).
Wright's dedication to teaching and nurturing students--in the field, classroom, and laboratory--is reflected in the dozens of doctoral students he has mentored. In addition, Wright has helped train students and young colleagues around the globe in modern archaeological field techniques on projects in Eritrea, China, Mongolia, Turkey, Myanmar, Madagascar, Mexico, and Thailand. Few have had careers as distinguished as Henry Wright's, and the AIA Gold Medal is a fitting recognition of his accomplishments.
C. Brian Rose is the president of the Archaeological Institute of America.
Share