An amateur diver finds archaeology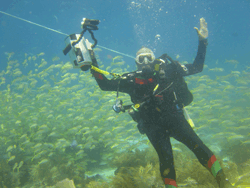 (Courtesy Erik Denson)
Kenneth Stewart, a retired copier repairman in Tennessee, was bored with diving the same old reefs. Then an inspirational archaeologist gave him a new reason to put on a wet suit. Now dozens of volunteers join him in Florida each year to document shipwrecks. Stewart spoke with Senior Editor Samir S. Patel about diving and archaeology in the African-American community.
When did you learn to dive?
About 20 years ago. I grew up in the Bronx--a lot of people there thought I was crazy, but I was fulfilling a dream. I also formed the Tennessee Aquatic Project and Development Group [TAP], which uses diving to reach young people.
Did you have any interest in history or archaeology at that point?
No. That's not to say I didn't have interest, I just didn't have exposure.
What changed?
I'm a rep for the National Association of Black Scuba Divers. A lady wanted to interview some members for a documentary called The Guerrero Project, about the undiscovered wreck of a slave ship. Brenda Lazendorf, the archaeologist at Biscayne National Park, talked in the documentary about treasure hunting and archaeology. It stayed in my mind. In May 2003 I took some of the TAP kids to the park, where I met Brenda. She had this infectious enthusiasm. She was the lone archaeologist in a park with 91 underwater sites that needed documentation. So I e-mailed my friends and asked, "Are you tired of the same old dives?"
What was your idea?
Diving With a Purpose [DWP], a volunteer underwater archaeology program Brenda and I created. She envisioned a heritage trail that divers could follow to see wrecks. DWP brought volunteer divers to the park to be trained by her in basic archaeological surveying to create maps of sites for divers to follow.
How did you get people involved?
Three of my friends fell in love with the idea right away and helped me write a manual. I also lured people with the wreck of Guerrero. They had seen the documentary, and DWP folks might be some of the first to dive and document the wreck if it is found. The first year we had eight people. This year, the fifth, we'll have forty.
What do DWP divers learn?
DWP won't get you a degree in archaeology, but it'll give you some skills. The volunteers learn basic mapping and documenting--laying a baseline, measuring, and drawing artifacts. Then we map a site for the heritage trail. We've finished four of nine so far. Everybody who does it comes to love archaeology. Our people can then document any wreck, even Guerrero. We are also reaching out to other sites and countries.
What would it be like to be among the first to dive Guerrero?
A lot of history books don't deal with slavery enough. Even African Americans say they don't want to talk about it. We shouldn't dwell on slavery, but I think many don't understand it. The Guerrero wreck would help further that understanding. To be down there would be an awesome feeling. Some of my ancestors could have been on that boat.
What did you learn about archaeology from DWP?
It is painstaking. Nobody glorifies an archaeologist like Brenda, and everybody glorifies the treasure hunter. When we finish the heritage trail, we can sit back in our rocking chairs and say, "I had something to do with that." Unfortunately, Brenda passed away last April. We're carrying on with her vision and have established diving scholarships in her honor.
She must have meant a lot to you.
Not just to me. She persuaded one of our DWP members to go back to school to become an archaeologist.
There are few black divers or archaeologists. What role can diving and archaeology play in your community?
Diving is not associated with African Americans. It might have to do with being forced here across water on slave ships. Diving is a way to expose our children to things outside our norms and teach them their history. A lot of African-American youth have issues, and I think it's because they just don't understand their ancestors' struggles. My question is, "If you teach young people about their history, will it make a difference?" I think it can.
Share