The Realities of Reburial
Volume 62 Number 2, March/April 2009
by Jerald T. Milanich
How to reinter the remains of ancient Native Americans with no clear modern descendants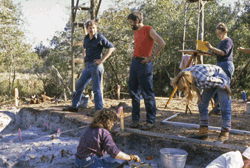 In 1985, the author (above at left) and a Florida Museum of Natural History team dug a Native American mound north of Tampa after agreeing that any human remains would be returned after study. (Jerald T. Milanich)
Amid a gentle shower, we began to shovel earth into the holes where we had just placed the remains of 367 ancient Floridians. I let loose a huge sigh of relief. After 22 months, 292 e-mails, and a lot of red tape, my experience in what one colleague calls "anti-archaeology"--putting back what we had excavated from a burial mound in northern Florida two decades earlier--was nearly over.
The lengthy ordeal taught me that when you make the decision to rebury the bones of centuries-old Native Americans who have no direct descendants today, you are pretty much on your own. At times I felt as though returning the bones to the ground from which they had come would become possible in spite of, not because of, the federal law passed in 1990 known as the Native American Graves Protection and Repatriation Act (NAGPRA).
Among other things, NAGPRA is intended to encourage dialogue and cooperation between repositories curating the remains of past native peoples and modern Native Americans. Though some might argue otherwise, I believe that NAGPRA has been successful in accomplishing its implicit goal, helping to increase respect for Native Americans and giving them more of a voice in how museums treat their material heritage, including the remains of their ancestors. My frustration was not with the law itself or the regulations promulgated by the NAGPRA office. Rather, it was with the slow response time of that underfunded and understaffed federal agency. Also, though reburying human remains sounds like a straightforward undertaking, I learned it was a lot more complicated than I had naively anticipated.
Jerald T. Milanich is a contributing editor at ARCHAEOLOGY.
Share