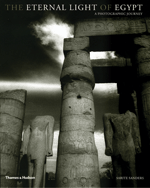 (Courtesy Thames and Hudson)
At the End of Days, when all the coffee-table books on ancient Egypt rise up to be judged, where will The Eternal Light of Egypt stand? The book, a Thames & Hudson offering, features 126 images by modern-day photographer Sarite Sanders. An introductory essay by Egyptologist Dorothea Arnold of the Metropolitan Museum of Art places Sanders's images in historical context by summarizing the work of photographic pioneers such as Maxime du Camp, Francis Frith, and Félix Teynard, as well as later practitioners, such as Harry Burton, who documented the Tut excavation.
Sanders's images are introduced by quotes from ancient texts and early tourists, from Mark Twain to Florence Nightingale, presumably selected by Sanders. These are nice overall, though neither Arnold, in her introduction, nor Sanders could resist dragging out Shelley's old saw "Ozymandias" in conjunction with a photo of a fallen colossus.
As for the images themselves, all were taken using infrared black-and-white film, which creates unusual effects. Close-ups of reliefs are almost unnaturally sharp, but in larger scenes, monuments seem grainy and skies spectral. At times the effects, combined with Sanders's point of view, go awry. In a couple of photographs, she aligns the heads of sculptures with palm trees behind them, the fronds looking like fireworks in the infrared images. Does the lion-headed goddess Sekhmet really benefit from a pyrotechnic halo?
I am not a fan of infrared black and white. It often seems cold and artificial, and the images lack the warm, rich tones of Teynard's. Arnold notes that Sanders's images are interpretive rather than documentary, but given such exquisite art and architecture, do we need or want more than a well-chosen viewpoint, such as Frith and the others typically selected? Judgment Day: if you like ancient Egypt and photography, you'll probably like this book, but how much will depend on your own point of view.
Share