An Italian CSI unit helps investigate ancient remains found in a third-century A.D. tomb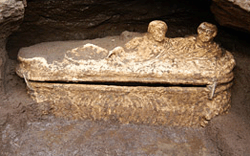 The largest sarcophagus was intended to hold the bodies of a husband and wife, although when it was opened, only the husband's body was found inside. (Courtesy Soprintendenza Archeologica di Roma, Pasquale Sorrentino)



One of the children's sarcophagi contained an extremely rare third-century A.D. ivory doll. (Courtesy Soprintendenza Archeologica di Roma)
A surprise discovery on the outskirts of Rome. Five containers hold unidentified bodies. Four of them are children. A woman's body is missing. The police are called in to investigate. Who are these people? What is their relationship to one another? How did they die? But this is not a modern crime scene, it's a remarkable archaeological discovery--five ancient Roman marble sarcophagi that escaped looters for more than 1,800 years with their lead seals intact. Archaeologists are working with scientists from the police Crime Scene Investigation unit to tell the personal story of a wealthy suburban family, and a broader one about the ancient Roman countryside.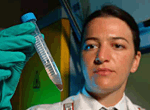 Lieutenant Elena Salata examines bone dust from one of the family members buried in the sarcophagi. (Pasquale Sorrentino)
During renewal projects aimed at transforming an area of the town of Tor Cervara into a shopping destination, a bulldozer uncovered the tops of two underground tombs. Construction work stopped immediately and Stefano Musco from the Archaeological Superintendency of Rome was called to investigate. Inside the first, rectangular tomb, he found the cover and part of the base of a badly broken marble sarcophagus with no remains. But inside the other, nine-foot-wide circular tomb, he saw niches holding five sarcophagi dating to the third century A.D. "To discover unviolated sarcophagi is particularly rare and very fortuitous for an archaeologist," says Musco. Since the early 1990s, when several unopened second-century A.D. sarcophagi were discovered at Vallerano, south of Rome, none have been found in the countryside around the city. And according to Musco, very few examples have been found anywhere in Italy.
Marco Merola is ARCHAEOLOGY's Naples correspondent.
Share