A visual journey
| | |
| --- | --- |
| | The third- to fourth-century A.D. Roman fort at Umm el-Dabadib is likely built over an earlier pharaonic one. The oasis's Roman forts are found at the north, south, east, and west limits of the oasis, often near water supplies. Unlike others in the Roman world, they are made of mud brick, not stone. A walkway on top allowed soldiers to survey the surrounding area. The primary function of the forts was probably not defense as their walls are, for the most part, only one brick thick. However, especially from a distance, their massive appearance conjures up the might of the Roman Empire, so the facades must have deterred nomadic attackers while the forts performed their real function--administration of the empire's southern limits. (Ken Garrett) |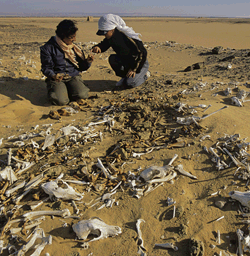 I have a passion for animal mummies, so I was excited to discover that the temple of Ain Dabashiya was associated with animal cults, particularly that of the canine-headed god Anubis. In a cemetery about 80 feet from the first- to second-century A temple, we found a tomb containing a group of dog mummies, and a similar deposit less than half-a-mile away. Here Corinna and I examine some of the dog mummy skeletons that have sustained wind and sand erosion, causing the loss of their mummy wrappings. The deposit contains the remains of several hundred dogs, ranging from few-week-old puppies to adults, possibly bred in the area. (Ken Garrett)
Deep in the Libyan Desert, 125 miles west of Luxor, lies Kharga, Egypt's largest oasis. The North Kharga Oasis Survey (NKOS), of which I am co-director, has established that this remote area--more than 100 miles long and from 12 to 60 miles wide--was continuously occupied throughout Egyptian history. We now know that it is home to an extraordinary variety of sites, including prehistoric rock art, Neolithic encampments, pharaonic monuments and burials, Roman settlements and water-supply systems, and the stars of the oasis--five unique Roman forts that guarded this part of the empire's southernmost frontier. Newly discovered ancient graffiti has even provided the name of a previously unknown ruler, King Aa, in power around 3000 B.C., who sent an expedition to this remote area. The NKOS's results are also changing our understanding of ancient Egypt's connections with its neighbors. We can now show that Kharga played an important role in trade between Egypt and other parts of Africa, from the Old Kingdom up through the modern period.
Until recently, archaeologists have paid little attention to the Kharga Oasis, a depression in the desert that in the distant past was a large body of water that shrank over time, leaving smaller lakes and an easily tapped underground water supply. While a French team has been investigating the oasis's southern part for the past 20 years, the north remained an enigma. Then, in the winter of 1998 Corinna Rossi, of the College of Milan, went to Kharga on vacation and saw several astonishing Roman forts, which were, for the most part, undocumented. The following year, she and I met in Cairo and, over coffee, discussed the use of aerial photography and balloons to explore the vast area. We soon became friends and in 2000 established the NKOS. The project's goal is to survey the entire northern part of the oasis--close to 2,000 square miles--and locate new archaeological sites. Because of the area's enormous size, we use a variety of methods such as kite aerial photography, satellite imagery, and field-walking. Once we discover a site, we plot its location using GPS, map and photograph it, draw the buildings, gather and study the pottery and small finds, and collect archaeobotanical and archaeozoological samples for later study.
Frequent sandstorms, high winds, extreme temperatures, and poisonous snakes make working in Kharga challenging. But I never know what is behind the next sand dune.
Salima Ikram is a professor of Egyptology at the American University in Cairo and co-director of the North Kharga Oasis Survey. She works at several sites in Egypt and studies collections in Egyptian museums.
Share