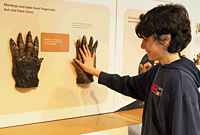 (Courtesy Lauren Hansen-Flaschen)
Surviving: The Body of Evidence




A fourth-century gold earring from Vani (Courtesy Museum of Arts, Houston) The Penn Museum in Philadelphia kicks off its Year-of-Evolution program with an exhibition showing how the human body provides lessons in our species' evolution, and suggesting the direction that future evolution may take. Casts of hominid fossils from Penn's extensive collection and a model of a woman three times larger than life-size are the highlights of the show, which will be on display until May 2009 before traveling to the Cleveland Museum of Natural History from June 7 to August 30, 2009.
Wine, Worship, and Sacrifice: The Golden Graves of Ancient Vani
One hundred of the most spectacular artifacts excavated from the temple-city of Vani in the modern-day Republic of Georgia are on display at the Houston Museum of Fine Arts through September 1. Dating from the eighth to the second century B.C., the jewelry, sculpture, and pottery demonstrate how the people of ancient Vani were influenced by both Persian and Hellenistic traditions.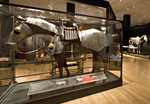 (© AMNH/D. Finnin)
The Horse
The American Museum of Natural History in New York examines humankind's ever changing relationship with horses. The exhibition begins with the horse's biological evolution, and then explores the animal as both a subject for cave paintings and an entrée for Paleolithic hunters. But the emphasis of the show is on the horse's role in transportation, labor, and warfare, and it features mounted warriors from Scythians to samurai. The exhibition runs until January 4, 2009.
Share