From wood, to stone, to five stars—the surprising tale of a German fortress
| | |
| --- | --- |
| | Excavations in the courtyard at Schloß Romrod, a 16th-century castle in central Germany, revealed the foundations of two earlier fortifications: one made of stone and one of wood. (Fotoarchiv Romrod, Germany) |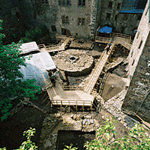 The discovery of the foundation of a late-12th-century circular watchtower proved that an earlier castle existed at Romrod. Even deeper lay the waterlogged remains of four wooden structures. (Fotoarchiv Romrod, Germany)
I wake up in the highest tower of Schloß Romrod, a 16th-century castle tucked away in a lush valley in central Germany, where my surroundings are fit for a modern princess. While the building's skeleton is more than 400 years old, my suite is equipped with a TV, kitchenette, and pulsating shower, and the sitting area adjacent to the bedroom is furnished with a black leather couch and jewel-colored pillows. A bottle of champagne chills in a bucket of ice on an end table. Although real royalty once slept in this very room, the five-star accommodations hide the humble beginnings of this schloß, or castle.
I peer through one of the warped-glass windowpanes into the roughly circular interior courtyard. The only way into the castle is through a single stone archway that frames a pair of 12-foot wooden doors decorated with bands of metal hardware forming diamonds and thick crosses. The building's refinished sand-colored walls are speckled with dark stones, and the entire structure is topped with a fanciful gray roof festooned with red-trimmed windows.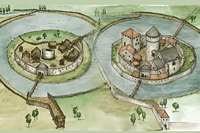 Above, this drawing illustrates how the wooden castle at Romrod may have looked in 1193, with the central stone tower and fortification wall already under construction. By 1260, the stone castle, right, had completely replaced the wooden one. (Illustrated site plan: ©WF)
It looks more like a Disney creation than a fortress that once held attacking enemies at bay. But excavations in the courtyard revealed that for nearly 400 years, the castle looked nothing like the one that stands today. And discoveries have shown that the first "knights" of Romrod were rustic farmers who lived in modest wooden houses—a far cry from the fairy-tale heroes who slay dragons and dazzle fair maidens with shining armor.
Germany in the middle ages experienced a succession of dynasties. When the House of Hohenstaufen fell in the mid-13th century, a period of political turmoil and disorder ensued. In the following centuries, great noble families such as the Habsburgs and the Luxembourgs came to power. The country functioned under the feudal system with a well-established hierarchy of kings, princes, dukes, and knights who were frequently called upon to fight in small battles on behalf of feuding noblemen. Knights were also instrumental in protecting merchants from bandits along trade routes, as the earliest defenders of Romrod were sworn to do.
The archaeological tale at this site began in 1996, when the Deutsche Stiftung Denkmalschutz (the German Foundation for Monument Protection), a nonprofit group that raises money to protect historical structures in Germany, purchased Schloß Romrod. The foundation wanted to fix up the castle, which had been neglected for decades, and establish an academy there where craftsmen could learn traditional building techniques and owners of other historic buildings could attend seminars on how to care for their properties. It also decided to transform a section of the building into an upscale hotel. And although the foundation planned to do limited archaeological work in the courtyard, it never could have anticipated the project would result in the first complete excavation of a wooden castle in Europe.
Eti Bonn-Muller is managing editor at ARCHAEOLOY. Stay tuned for additional finds from the site and an interview with Baron Jürgen von Dörnberg, owner of Burg Herzberg, a nearby höhenburg that served as an outpost for the knights of Romrod.
Share