An amateur archaeologist's rare Etruscan find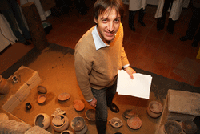 Andrea Marcocci stands with some of the grave goods from the Tomb of the Badger. An exhibit is planned for local residents to see the artifacts and get closer to their
own history. (Photo by Marco Merola)
It's not every day that an amateur has the opportunity to uncover a 2,200-year-old tomb. But outside the tiny town of Civitella Paganico in central Italy, aspiring archaeologist and local resident Andrea Marcocci did just that. This part of Tuscany is not very well known by Etruscan scholars and few intact tombs have been found here. So it was surprising when Marcocci began to excavate an unusual opening in the earth near the castle of Casenovole a few miles from town and discovered what soon was called the "Tomb of the Badger," so named for the den at the grave's entrance.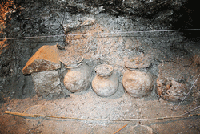 Five funerary urns just after discovery.
The first on the left is made of stone and has a floral motif incised along the sides and cover while the others are undecorated terracotta. (Photo by Marco Merola)
A former farmer who now studies archaeology at the University of Siena, Marcocci remembered the location from his frequent walks over the last two decades, but he never expected to find anything significant there. When he first went there in 1991, Marcocci says he realized almost immediately that the opening probably led to a tomb, but he kept his secret hidden for 16 years thinking that if he revealed the location, the grave would be robbed. Last year Marcocci finally had the chance to dig in the place he had visited so many times. "I thought I would discover a tomb that had already been looted, probably a long time ago," he says. "Instead, I found myself opening the tomb for the first time in 2,200 years."
After cleaning away all the shrubs and clearing the 9-foot-long entrance corridor, the team finally reached the 12-foot-square funeral chamber and saw that it was filled with earth up to the ceiling. Marcocci describes how they slowly removed the earth only with trowels for five days until one hot August morning they began to empty the chamber and saw three stone urns sitting on a bench and the covers of several terracotta urns on the ground, one of which had an Etruscan inscription. "It affected me greatly, especially when I noticed that one of the urns was much smaller than the others and could have held the remains of a child," Marcocci says. "I thought of the sadness of the relatives of the dead during the funeral ceremony and wondered whether it was right to disturb their graves." Marcocci considered the risk of leaving the tomb exposed to looters and forged ahead, eventually discovering urns containing the remains of as many as 30 people from the third to second century B.C.
Marco Merola is a freelance journalist and Archaeology's Naples correspondent.
Share