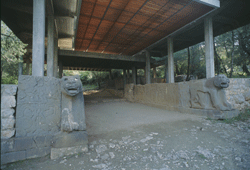 "Lion Stone" (Haldun Aydıngün)
Archaeologist Sandra Scham's favorite little-known site is a walled Neo-Hittite city in southern Turkey
The site: Neo-Hittite sites are a fascinating mixture of many Near Eastern cultures: Hittite, Aramaic, and Phoenician (see "Who Were the Hurrians?" for more on the Hittites). Nowhere is this more apparent than at the site of Karatepe, built in the seventh century B.C. and known today as Aslantaş, or "Lion Stone."
Don't miss: Karatepe has monumental gateways with passages leading to chambers at either side. The interior basalt walls are carved with lions, sphinxes, and depictions of deities such as the Phoenician storm god Baal and the Egyptian dwarf god Bes. There are also several bilingual inscriptions there that, when the site was discovered in 1946, became the key to unlocking the mysterious Luwian hieroglyphs and truly opening up Hittite civilization to scholars for the first time.

If you're going: This site is in the Karatepe-Aslantaş National Park and features views of Lake Ceyhan, a popular picnicking spot. The nearest town is Osmaniye, which has several hotels. The closest airport is in the city of Adana, which is an hour and a half flight from Istanbul. The best way to get to the site is by hiring a taxi in Osmaniye.
Keep in mind: Beyond Karatepe on the Osmaniye Road is the Gaziantep Museum, which displays the spectacular Roman mosaics rescued from the now partially submerged site of Zeugma.
Share