Seized Artifacts Back In Iraq
Volume 61 Number 4, July/August 2008
by the Editors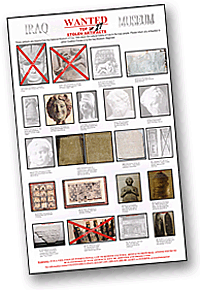 This poster lists some of the most high-profile objects still missing from the Iraq National Museum. (Courtesy Matthew Bogdonas)
For the beleaguered archaeologists of Iraq, a break from reports of rampant pillaging at the country's ancient sites was welcome news. Not long after the fifth anniversary of the looting of the Iraq National Museum in Baghdad, the government of Syria returned 701 artifacts seized by customs officials at the Iraqi border.
Some of the objects, which include gold necklaces, daggers, pots, and statues, still bear original museum catalogue numbers, while others were probably looted from sites recently. Among the returned pieces are dozens of Aramaic incantation bowls. Also known as "Babylonian demon bowls," they were inscribed with spells to ward off evil and buried in homes from the sixth to the eighth century A.D., a period not well understood by archaeologists in Iraq. These bowls are surfacing with increasing regularity in the antiquities market.
Catastrophe! The Looting and Destruction of Iraq's Past, an exhibition marking the fifth anniversary of the looting of the Iraq National Museum and focusing on the continuing pillage of the country's archaeological heritage, is on view at the Oriental Institute Museum in Chicago until December 31. The Oriental Institute maintains the Iraq Museum Database, an effort begun in 2003 to compile a comprehensive record of all the artifacts belonging to the National Museum and other Iraqi museums. The database identifies missing objects and is used in the recovery of stolen pieces.
As many as 15,000 objects, from a 5,000-year-old Sumerian limestone mask to marble depictions of Greek gods like Apollo and Poseidon, were stolen from the museum in 2003. While many of the most high-profile artifacts have been returned, a little more than half are still missing. Of the artifacts that have been found, about two-thirds have been returned to the Iraq National Museum; the remaining objects are still in the countries where they were seized. Iraq is now negotiating with Jordan, the United Arab Emirates, Saudi Arabia, Germany, and Italy for large-scale repatriations. The museum itself is still closed, and will be for the foreseeable future.
The looting situation is grim, since protection of archaeological sites can't be a high priority for a government still struggling to deliver basic services to its people. But Behnam Abu al-Soof, an Iraqi archaeologist and former Director General of Antiquities and Museums for Northern Iraq, takes the historian's long view. Al-Soof, who is now studying and lecturing at Brown University's Joukowsky Institute for Archaeology and the Ancient World under the Scholars at Risk program, notes that in Iraq's 5,000-year history, the country has seen and survived many wars. "The future of archaeology in Iraq is the future of Iraq, so it is uncertain," says Al-Soof. "But when peace comes to Iraq, peace will come to its archaeology too. I know it will happen."
Share