From the President: Virtual Digging
Volume 61 Number 4, July/August 2008
by C. Brian Rose
A taste of life on real excavations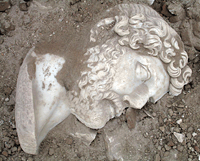 Fragments of a colossal statue of the emperor Hadrian emerged at Sagalassos in 2007. (Courtesy Marc Waelkens)
This summer, while audiences are watching Harrison Ford reprise his role as Indiana Jones on the big screen, many real-life archaeologists will be heading to the field. For me, that means a journey to Turkey, where I'll be supervising remote sensing at the Phrygian capital Gordion and at Troy. Working on an excavation is both thrilling and rewarding, but not everyone gets a chance to participate. For a taste of the experience, I recommend you take a look at our Interactive Digs on the ARCHAEOLOGY website at interactive.archaeology.org, where you'll find field reports from four ongoing digs--as well as several past ones.
Since 2003, we have featured excavations and site preservation efforts at Hierakonpolis, the most important site for understanding the foundations of Egyptian civilization. Year after year, Renee Friedman of the British Museum has shared her finds and field life with us, from discovering a ritually buried elephant to improvising Thanksgiving feasts.
Our association with Heidelberg College archaeologist David Bush began in 1999 with an ARCHAEOLOGY feature about his work at the Johnson's Island Civil War POW camp in Ohio. This led to online exclusives with stories, photos, and diaries provided by descendants of prisoners. We joined Bush and his crew in the field in 2002, and have followed their work for the past several years as they excavated the camp's barracks and prison hospital.
More recently, we have been fortunate to showcase the Black Sea Shipwreck Research Project, led by Benjamin Goetsch and his Ukrainian colleagues. Their 2007 video log captures everything from excavations of a 13th-century a.d. wreck near the Crimean resort town of Novy Svet to convivial meals shared by the international crew despite the spartan conditions of their base camp.
Finally, my friend Marc Waelkens of the Catholic University of Leuven has featured his excavations at Sagalassos, Turkey, on the ARCHAEOLOGY website since 2003. It's a model of how a large-scale, multidisciplinary project works, and his team made headlines last year with the discovery of a statue of the Roman emperor Hadrian. Waelkens's stories of daily life are often lively. In one, he recounts how he "barely escaped a bite by a snake--a horned adder--by jumping down a steep bedrock outcrop and rolling several meters down the slope." It was, he wrote, "the only event in my life where I found myself in an 'Indiana Jones' situation."
You'll find our Interactive Digs are the next best thing to being there.
C. Brian Rose is the president of the Archaeological Institute of America.
Share