Museums: A Feather in Peru's Cap
Volume 61 Number 3, May/June 2008
by Eti Bonn-Muller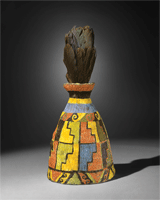 The delicate headdress was crafted by the Wari, who were better known as bloodthirsty warriors. (Courtesy The Metropolitan Museum of Art, New York)
The rain forests of the Amazonian basin abound with parrots, macaws, and other brightly colored birds, whose silken feathers were prized by ancient Peruvians for more than 2,000 years. Perched in the otherwise subdued galleries of the Metropolitan Museum of Art in New York, the exhibition Radiance from the Rain Forest: Featherwork in Ancient Peru features some striking objects, including 70 garments, crowns, personal ornaments, and accessories made between the seventh and sixteenth century A.D. These items were used for both personal adornment and ritual purposes by several cultures, such as the Chimú and the Inca. Also on view are pieces created by the Wari, who were better known for their practice of wearing the skulls of subjugated enemies.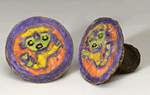 The Chimú or Inca ear ornaments are embellished with feathers that were trimmed and pressed flat. (Courtesy The Metropolitan Museum of Art, New York)
Among the highlights are four Wari wall hangings that were made by stringing together macaw feathers and then sewing them onto a fabric backing. The still-vivid blues and yellows radiate off each other, evoking images of modern art. A total of 96 such pieces were accidentally discovered--rolled up in eight ceramic jars--in 1943 at the site of Corral Redondo by local workers preparing adobe near La Victoria on Peru's southern coast. They may have decorated walls or been offerings to the gods.
Displayed in close proximity in a tiny gallery space, the works transform the average experience of viewing an exhibition into the sensation of being right in the middle of an ancient religious ceremony or gathering of the Peruvian elite.
The exhibition is on view through September 1.
Share