60 Years of Discovery
Volume 61 Number 3, May/June 2008
by Malin Banyasz, Jarrett A. Lobell, and Eric A. Powell


Winter 1950




Summer 1953




Winter 1955




Winter 1957




Summer 1963




June 1966




April 1968




April 1970




April 1971




May 1977




January 1983



September 1984




May 1986




January 1987




July 1990




January 1993




November 1995




May 2001




May 2006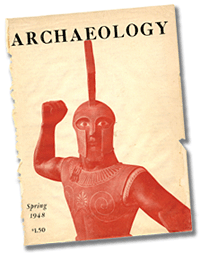 1948 was a milestone in the study of the human past. In the spring of that year ARCHAEOLOGY published its first issue. Today, we celebrate the 60 years that followed with this special section devoted to the most extraordinary discoveries of the last six decades. But the year is really a landmark thanks to University of Chicago physicist Willard Libby, who in 1948 perfected his revolutionary radiometric process. ARCHAEOLOGY is as old as radiocarbon dating. The first mention of the technique was in our 1950 summer issue. A short news item alerted readers that "scattered reports indicate success with the radiocarbon method." In the next issue, the editors published a list of 16 radiocarbon dates, including ones from the Mixtec capital of Monte Albán, Lascaux Cave, a Paleo-Eskimo house, and the Dead Sea Scrolls. Reading the list of raw radiocarbon dates today, one can sense the editors' excitement. Future ARCHAEOLOGY editors looking back at today's coverage will detect a similar enthusiasm in our reporting on DNA analysis, which in recent years has revolutionized the study of ancient human populations. In fact, the decoding of the Neanderthal genome was our choice for the most significant event of this decade. It's a discovery that is the fruit of careful analysis by dozens of talented specialists. But some archaeologists would rather be lucky than good. We also feature chance discoveries like those of Cosquer and Chauvet caves in France in the 1990s.


Winter 1953




Winter 1959




Spring 1960




Spring 1964




January 1969




January 1972




January 1978




March 1979




September 1985




July 1989




March 1991




July 1992




July 1999




March 2002




March 2004




January 2002




Januray 2003
This might be a good place to admit that we've also made some mistakes over the years. The most obvious misstep was the selection of our very first cover, which features a terracotta statue of an Etruscan warrior preparing to smite his enemy--a strong, appealing, image. The only problem is that the warrior is a fake, as the editors were forced to admit in a later issue. But the revelation of an artifact as a fake can count as an exciting discovery, too. The cover of the issue you're reading also features a bogus artifact, one of the infamous "Maya" or "Aztec" crystal skulls that inspired the upcoming Indiana Jones movie. In our inaugural issue, Archaeological Institute of America President Sterling Dow wrote: "The mighty cultures of the past issued from turmoil, but contemplation of them now gives us serenity." In these unsettled times, we hope the discoveries on the following pages excite you as much as they do us, and perhaps even give you some measure of serenity as you contemplate them.
the '50s
Çatalhöyük
In the fall of 1958, 33-year-old English archaeologist James Mellaart surveyed southern Turkey's vast Konya plain by Land Rover, driving from one mound to another in a quest for a site from the earliest period of the "Neolithic Revolution," when humanity first began to domesticate crops and animals. Writing in ARCHAEOLOGY four years later, Mellaart described reaching the 40-acre mound of Çatalhöyük shortly before nightfall on November 10. He and two colleagues walked around the site and to their "great surprise and delight" found traces of burnt walls on the surface, as well as pottery and obsidian tools that gave Mellaart reason to believe that the mound dated to the earliest days of the Neolithic period. He got more than he hoped for.
In four seasons of excavation, Mellaart discovered that the 9,500-year-old Çatalhöyük mound was a massive Neolithic center, far larger than archaeologists expected for such an old site. Its tightly packed mud-brick homes could have sheltered a population of 5,000 to 8,000, a discovery that forever changed ideas about the level of social complexity in the Neolithic. Mellaart's team also unearthed spectacular murals depicting leopards, dancers, and deer hunters. In a second ARCHAEOLOGY article in 1964, Mellaart described the rich symbolism of the site, including possible shrines and dozens of figurines.
the '60s
Akrotiri
In 1967, Greek archaeologist Spyridon Marinatos decided to excavate the Bronze Age site of Akrotiri on the Aegean island of Thera to test a dramatic theory. Marinatos thought it was possible that a massive eruption of the volcanic island changed the course of Aegean history, causing the collapse of the dominant Minoan civilization and paving the way for the next great civilization, the Mycenaeans. ARCHAEOLOGY has tracked the fallout from Marinatos' excavations ever since.
For seven years, until his death on-site from a stroke, Marinatos dug what turned out to be an entire town, of which the extraordinary state of preservation provides an unparalleled window onto everyday life in the Late Bronze Age Aegean world. His excavations at the site--and those of his successor, Christos Doumas--revealed beautiful wall paintings, two- and three-story buildings with balconies and staircases, pots of plaster, tools, and large storage jars still filled with traces of olive oil, fish, and onions--the trappings of a normal day when one of the biggest eruptions in earth's history was imminent.
the '70s
The Terracotta Army
A headline in the news section of the October 1975 edition of ARCHAEOLOGY announces "An Important Chinese Find." In retrospect, the words are deceptively modest, since they refer to one of the greatest discoveries of the twentieth century.
In the issue, UCLA archaeologist Richard C. Rudolph writes with barely contained excitement about 1974 test excavations in the province of Xi'an near the tomb of Qin Shihuangdi, the first emperor of a unified China (221-210 B.C.). While digging in a rectangular pit northeast of the emperor's burial mound, Chinese archaeologists announced that they discovered 216 life-size terracotta soldiers and 12 horses, all highly realistic and individually sculptured. In the brief Chinese-language report made available to Rudolph, the archaeologists estimated there were probably thousands of warriors yet to be uncovered in the same pit. "The thought of such a large number of life-size sculptures in a single pit," writes Rudolph, "with the distinct possibility that others are nearby, is overwhelming." Some 1,000 terracotta soldiers were eventually unearthed in three pits near the emperor's tomb, and archaeologists now estimate the army is composed of some 8,000 warriors in all. Today, Shihuangdi's massive terracotta army still stands at attention, largely in situ, and is one of the world's most popular archaeological destinations.
the '80s
Lord of Sipán
In 1987, Peruvian police raided the home of a notorious grave robber near the village of Sipán, recovering a cache of 33 gold and silver artifacts belonging to the Moche culture, a sophisticated agricultural society that flourished along the coast of northern Peru from A.D. 100-700. The artifacts were traced back to a large burial mound complex on the outskirts of Sipán, and officials summoned archaeologist Walter Alva to assess the damage. Speaking with ARCHAEOLOGY editor Angela M. H. Schuster, Alva later described the pillaged mound, cratered with looters' holes, saying, "I remember how sick I felt as I looked at the destruction of what had once been a sacred place for the Moche."
But Alva's despair soon lifted when he discovered he was the recipient of one of the luckiest breaks in modern archaeology. During his excavation of the mound, Alva learned that a looters' tunnel reached just a few feet short of one of the most spectacular burials ever found in the New World--that of an elite young man now known as the Lord of Sipán. Buried along with nine attendants, probably sacrificed so they could serve him in the afterlife, the young royal held a gold scepter in his right hand, and his chest was decorated with a gold crescent, a Moche symbol of divine power. To his left were gold ornaments, symbols of the sun, and to his right lay ones of silver, representing the moon.
the '90s
Cosquer and Chauvet
The 1990s were an improbably rich decade for the study of Paleolithic art. Some 40 years after the discovery of Lascaux Cave's spectacular 16,000-year-old paintings, prehistoric masterpieces were found in two previously unknown French caves.
In July 1991, diver Henri Cosquer visited a cave on the southern French coast that could only be entered through a submerged tunnel. He noticed the shape of a hand stenciled in red on the cave wall, and alerted authorities to the possible presence of Paleolithic art in the cave, which now bears his name. In a 1993 ARCHAEOLOGY article, French prehistorians Jean Clottes and Jean Courtin described the cave's Solutrean period (around 19,000 years ago) paintings of bison, horses, and ibexes, all known in Paleolithic art, and others unknown to specialists, such as penguin-like sea birds called auks, and even some black figures that might be jellyfish or squid.
Just two years later ARCHAEOLOGY editor Spencer Harrington reported on the discovery of an even more richly decorated cave some 150 miles southeast of Lascaux by spelunker Jean-Marie Chauvet and two friends. Jean Clottes told Harrington that the newly christened Chauvet Cave would "bring about just as many upheavals in our knowledge of Paleolithic art as the discovery of Lascaux...." Clottes' prediction proved accurate. The cave is decorated with images of dangerous animals, rarely encountered in Paleolithic cave art, including bears, hyenas, rhinos, mammoths, and a spectacular pride of lions in motion, perhaps surging toward a herd of bison.
the '00s
Neanderthal Genome
ARCHAEOLOGY students are often reminded that the most important discoveries occur in the laboratory. But that truism has never been more accurate than in the past decade, which has seen exponential growth in the application of DNA analysis to ancient remains.
In a 2006 ARCHAEOLOGY cover story, journalist Michael Dumiak took readers inside the lab of geneticist Svante Pääbo of the Max Planck Institute for Evolutionary Anthropology in Leipzig, Germany. Among other projects, Pääbo's team is now sequencing the entire Neanderthal genetic code. When a final copy of the genome is complete, Pääbo will be able to help answer a question that has dogged paleoanthropologists for more than a century: Were Neanderthals a separate species or did they interbreed with our ancestors?
Pääbo's earlier work, analyzing mitochondrial DNA from Neanderthal bones, led him to suspect humans and Neanderthals were distinct species. "The big picture is that modern humans came out of Africa and replaced Neanderthals," Pääbo told Dumiak. But a new sequencing technique is allowing his team to piece together the elusive nuclear DNA, which will allow researchers a more complete look at the genetic makeup of Neanderthals. Already Pääbo's team has discovered that Neanderthals possessed FOXP2, a human gene that researchers suspect plays a role in the development of language.
Share