Reality Check: The Emperor's New Soldiers
Volume 61 Number 2, March/April 2008
by Andrew Curry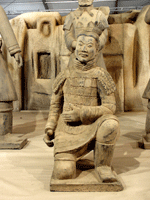 A German museum was duped into believing this replica of a terracotta warrior was excavated in China. (Courtesy Museum für Völkerkunde Hamburg)
"Power in Death" was supposed to be Hamburg's hottest ticket for the holidays. The exhibition, which opened November 25, 2007, at the city's Ethnographic Museum, highlighted eight terracotta warriors and two clay horses that curators said were part of the 2,200-year-old army discovered in Xi'an, China, in 1974. But the exhibit closed after just two weeks. The statues, it turned out, were fakes.
China recently began loaning out some warriors, manufactured to guard emperor Qin Shihuangdi's tomb, as part of a cultural push to promote the upcoming Beijing Olympics. The terracotta army is one of the Middle Kingdom's most reliable tourist attractions, visited by 2 million people annually. Authentic figures are scheduled to appear this year in Michigan, California, London, and the Netherlands.
The Hamburg museum's blunder? Trusting the Center for Chinese Art and Culture (CCAC) in Leipzig, the group that organized the exhibit. Tipped off by a disgruntled former CCAC employee in early December, the museum's curators checked with Chinese authorities, who quickly confirmed that no authentic relics had been sent to Germany. CCAC head Yolna Grimm shrugged off the scandal. "For us, 'authentic' means ceramic, life-sized, and comparable with the originals," he told German press agency DPA.
The Ethnographic Museum's definition was a little different. "I looked in the dictionary," museum director Wulf Koepke told reporters, "and 'authentic' and 'original' mean the same thing."
The museum is now suing CCAC over breach of contract.


© 2008 by the Archaeological Institute of America
archive.archaeology.org/0803/trenches/realitycheck.html
Share