Brown University archaeologist Christopher Witmore says visiting the iconic Neolithic site of Çatalhöyük is now as simple as loading your web browser.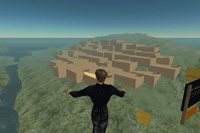 Çatalhöyük in Second Life (Christopher Whitmore)
Standing atop the summit of the East Mound at the 9,000-year-old Neolithic town of Çatalhöyük, I hear a goat bleat. Birds chirp. To the west, I see several dozen mud-brick buildings tightly packed together and staggered at various levels down the hillside.
But surrounding this mound is not the grassy steppe of central Turkey's Konya Plain, where archaeologists are now busy excavating the site. Rather, I see the rippled surface of a seemingly vast ocean. I'm in Second Life. And this ocean separates islands in an online virtual world created by its residents (www.secondlife.com). Here anyone can buy land on which to build anything imaginable: a campaign headquarters, Stonehenge, or, as a team of Berkeley archaeologists have done, Çatalhöyük (slurl.com/secondlife/Okapi/).
Don't think of Second Life as child's play. And don't think of this synthetic world as an exact reconstruction of what Çatalhöyük looked like 9,000 years ago. Think of it more as a dynamic archive, as a way of exploring diverse bodies of archaeological information (text, site plans, feature illustrations, burial photographs, excavation videos, Turkish music, or even background noise) through the senses of your avatar, a digital version of yourself you construct upon joining Second Life (basic membership is free).
Still in the early phases of development, Çatalhöyük in Second Life consists of the partially reconstructed south area unearthed by archaeologist James Mellaart in the 1950s, an excavation tent, a theater, a museum (a must-see), and a public area for projects, where you can share your ideas about the site. Information boards are located around the island as guides.
Expect more progress over the next few months and an open day with site tours led by archaeologists on April 12.


© 2008 by the Archaeological Institute of America
archive.archaeology.org/0803/trenches/offthegrid.html
Share