Shovel Bums
Volume 61 Number 2, March/April 2008
photographs by Lauren Lancaster
Inside the world of contract archaeology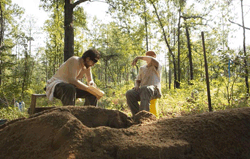 Cory Boling, 27, left, and Ricky Matthew Kopec, 26, archaeologists with Panamerican Consultants, Inc., sort prehistoric artifacts excavated at Fort Benning, Georgia. Temperatures at the base, where the firm has worked since 1993, climbed above 110 degrees last summer.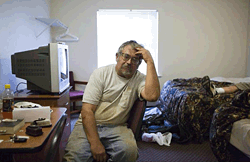 Harley Lanham has been a contract archaeologist since 1974, and spends about six months a year on the road. "I'm training the next generation," he says. "I don't think about doing anything else."
They call themselves "shovel bums," and they are the backbone of archaeology in this country. Known more formally as contract archaeologists, these men and women make up the workforce of the cultural resource management (CRM) industry. That's bureaucratic speak for archaeological projects done at sites that will be impacted by construction on public land or development financed by the government. Roughly a billion dollars a year in federal, state, and private funds are spent on CRM projects, accounting for some 95 percent of the archaeology done in the United States.
But contract archaeologists are constantly on the move, and usually have no benefits and little job security. They work on construction sites, military bases, highways, and anywhere else where the law requires archaeological work before development. Spectacular discoveries are few and far between. (You can read about one exception, a find in Puerto Rico made by the CRM firm New South Associates, in this issue.) And the archaeologists whose careers are spent digging test pits within view of antsy bulldozer operators and moving from one project to another are all but invisible to the public eye, despite the fact that they are responsible for safeguarding much of the country's heritage.
So when photographer Lauren Lancaster proposed a photo essay that explored the world of a typical CRM project, we jumped at the opportunity to feature the people who actually make archaeology happen. A former contract archaeologist herself, Lancaster spent a week last August at Fort Benning, Georgia, photographing the employees of Panamerican Consultants, Inc., a large CRM firm with offices throughout the eastern United States. She followed them into the field, where they worked around live-fire exercises at the Army's largest training center, and spent time with them after hours, capturing the contract archaeologist's itinerant lifestyle in a series of stark images.
It's difficult to estimate how many contract archaeologists are at work in this country, but www.shovelbums.org, a website that advertises CRM jobs, has 12,000 registered users. These images explore the world of just a handful of those shovel bums.--The Editors


© 2008 by the Archaeological Institute of America
archive.archaeology.org/0803/abstracts/shovelbums.html
Share