The AIA's online education initiative
Children have a natural fascination with the past, and we owe it to them to create innovative programs that develop this interest. To meet this need, the Archaeological Institute of America undertakes outreach activities, such as a recent weekend archaeology fair, co-sponsored by Boston's Museum of Science, that drew some 3,000 children, parents, and teachers. The AIA has also created a series of in-depth lesson plans that give educators the tools to use archaeology in their classrooms.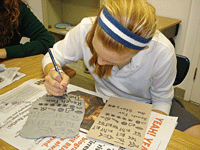 Students learn about past cultures with AIA lesson plans, such as this Rosetta Stone project. (Courtesy Shelby Brown) [LARGER IMAGE]
Spearheading this effort is Shelby Brown, who is now ending her tenure as our first Vice President for Education and Outreach. Brown caught the archaeology bug during a childhood visit to the Zapotec site at Monte Alban, Oaxaca. She started teaching while studying classical archaeology in graduate school, eventually turning to K-12 education. She now works in Los Angeles at The Archer School for Girls, where ninth graders take a class in archaeology that is tied to their history and English studies.
Education and archaeology are a perfect match. "Archaeologists are encouraged to dig in the dirt, uncover interesting finds, and solve puzzles," says Brown. "Children love all of those things! The hands-on learning, the questions and mysteries, and the engagement with different peoples and cultures are all fascinating to them."
With our lesson plans, K-12 educators can bring archaeology into their classrooms as a springboard for teaching scientific methods, critical thinking and writing, and historical analysis. "Archaeology," says Brown, "can be an entry point into a cross-curricular world of knowledge and skills founded in fun and mystery." Some AIA lesson plans put students in the shoes of people who lived in a different time. They can become ancient Greek vase painters, Mesopotamian and Egyptian scribes, or Romans, from slaves to senators. Other lessons place them in the role of archaeologists. In carrying out the projects, students learn what evidence survives and begin to understand how gaps in available information limit our interpretation of past cultures.
If you are a teacher or someone who wants to introduce your own children to archaeology and past cultures, I invite you to visit the AIA website at www.archaeological.org/education and explore the free, downloadable lesson plans we have there. If you appreciate archaeology and agree with our educational goals, please consider becoming a member of the AIA.
C. Brian Rose is the president of the Archaeological Institute of America.


© 2008 by the Archaeological Institute of America
archive.archaeology.org/0801/etc/president.html
Share