Letter from New Mexico: Surveying a Sacred Landscape
Volume 61 Number 1, January/February 2008
text and photographs by Julian Smith
Archaeologists take on the cliffs and caves of the Rio Grande Gorge.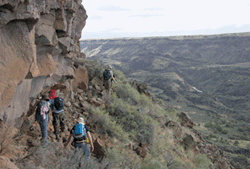 Archaeologists brave the Rio Grande Gorge's steep rim to survey the area for signs of prehistoric Native American occupation.
It's hard to hold your breath while squirming through a cave, especially one that's barely big enough to fit inside. But in this part of the Southwest, rodent droppings have been known to harbor hantavirus, a potentially deadly disease you can catch by inhaling the dust that surrounds the waste. I see a few piles in dark corners as I follow archaeology grad student Henry Pedersen through a two-story jumble of boulders above the Rio Grande River near Taos, New Mexico.
At the deepest part of the cave complex, Pedersen points out an area of flat soil. "We don't know for sure, but it might be a burial," he says through the handkerchief over his mouth. Nearby reminders suggest Pueblo Indians may have used the site for ritual purposes: a bird bone that looks like it could be part of an ancient flute and a mammalian long bone shaft shattered, possibly from a rock fall.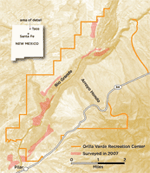 We clamber over, under, and around black boulders the size of small cars, our way lighted by pencil-thin shafts of sunlight. At the top of the pile of boulders we emerge, dirty and blinking, into full June sunlight. Below us, Barnard College anthropologist Severin Fowles is cataloging and photographing petroglyphs. Fowles describes lines of dots, zigzags, abstract figures, and animal tracks while grad student Christina Perry takes notes and photographs them. Fellow students Jeff Spear and Kaet Heupe record stone chips and flakes, and potsherds among the juniper bushes that fill a small natural plaza in front of the boulder pile.
This team from Columbia University is one week into an ambitious survey of the Rio Grande Gorge, a steep-walled canyon that runs through northern New Mexico. Home to the Chaco culture, the Jicarilla Apache, 19 Pueblo tribes, and a large chunk of the Navajo reservation, this part of the state has seen plenty of anthropologists and archaeologists over the years. But surprisingly, archaeologists have never formally surveyed the Rio Grande Gorge, Fowles says. The project's main goal is to examine how the prehistoric Native Americans used this territory in their daily and spiritual lives.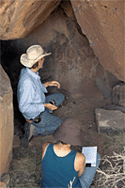 Another goal of the project is to help reconnect the Native Americans of nearby Taos and Picuris pueblos with their heritage. Because of what they perceive as insensitive treatment by social scientists in the past, the tribes are often hesitant to cooperate today. But Fowles hopes that will change as his team continues to identify petroglyphs and other components of the sacred landscape that play a potentially significant role in their spiritual lives.
The team has begun a multiyear study of about 35 miles of the gorge through Taos County, as well as major side canyons, portions of the rim, and other places with good visibility or signs of previous occupants. "The gorge was a kind of oddity that archaeologists once saw primarily as a barrier to pre-Columbian people's movement," says Fowles. "Now we're thinking about it as a world unto itself--a highly meaningful and elaborately marked world."
Julian Smith is a travel and science writer and photographer.


© 2008 by the Archaeological Institute of America
archive.archaeology.org/0801/abstracts/letter.html
Share