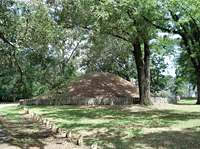 Dating to about A.D. 50, the six mounds at Marksville are the first stop on Louisiana's Ancient Mounds Trail. (Courtesy Andrei Codrescu)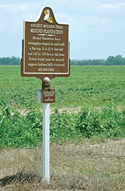 The Ancient Mounds Trail sign at Mound Plantation marks a site occupied by the ancient Coles Creek people (A.D. 400-1200). (Courtesy Andrei Codrescu)
Taking a prehistoric road trip through the Bayou State
My wife Laura is a native Louisianian who spent a good deal of her childhood searching for Indian mounds. Directly across the Mississippi River from her home in West Baton Rouge Parish, there are two round-topped Native American earthworks on the campus of Louisiana State University. I have passed them hundreds of times walking to my office in the English Department, wondering what ritual purposes they might have served. Of course, students have their own ritual use for them. Day and night, they are favorite places for making out. (In my own youth, in Romania, we found the same use for Roman ruins.)
Native American mounds are the state's most vivid connection to its ancient past. There are nearly 700 mound sites in Louisiana, with an especially dense cluster of them in the northeastern part of the state, near the Mississippi River. "We've got the full range here, from 5,000 years ago up to the proto-historic period [ca. A.D. 1540]," says archaeologist Joe Saunders of the University of Louisiana at Monroe. Saunders and his colleague Reca Jones were instrumental in creating the Ancient Mounds Trail, a driving route intended to link privately owned mounds that can be seen from the road and are identified by historical markers. The trail also features larger state-owned mounds, including Louisiana's preeminent site, Poverty Point.
Jones's recent discovery of the Archaic mound site of Watson Brake--dating to 3500 b.c. and far older than any other known mound in the country--inspired the creation of the trail, which is now two years old and includes 41 mounds. "There's no place in the country that has the same number of mounds that date to so many different periods," says Saunders. "Northeastern Louisiana is really unique."
Andrei Codrescu is a poet and professor of English at Louisiana State University at Baton Rouge. His latest book is New Orleans, Mon Amour: 20 Years of Writing from the City.


© 2007 by the Archaeological Institute of America
archive.archaeology.org/0711/abstracts/letter.html
Share