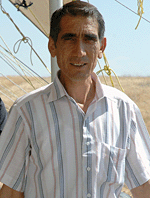 (Courtesy Jason Quinlan)
Stanford archaeologist Ian Hodder's excavations at the Neolithic site of Çatalhöyük in Turkey have spawned many publications, but the latest is unlike anything you're likely to read this side of James Joyce. A stream-of-consciousness memoir by former taxi driver Sadrettin Dural, Protecting Çatalhöyük: Memoir of an Archaeological Site Guard (Left Coast Press, $29.95) gives readers the chance to see the site through the eyes of the local who knows it best. According to Hodder's introduction, the book's first draft ran without punctuation for about 50,000 words. Mercifully, periods and commas have been introduced, but Dural's voice--by turns bawdy, bitter, and enthusiastic, reveling in anecdotes and aphorisms--remains intact.
Dural's narrative careens wildly from accounts of his job showing "the mound" to visitors, to hilarious romantic escapades and the business woes of his Çatalhöyük café. But the story always returns to his Neolithic ancestors and the yatirs, or ghosts, who are said to inhabit the mound. By the last few pages, it's clear that Dural is Çatalhöyük's flesh-and-blood yatir, a constant presence on the mound, likely to endure long after the last excavation trench is filled.


© 2007 by the Archaeological Institute of America
archive.archaeology.org/0709/trenches/catalhoyuk.html
Share