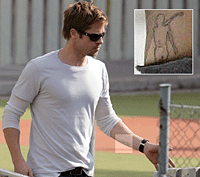 Brad Pitt appears to sport an Ötzi tattoo. (Splash)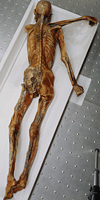 (Courtesy South Tyrol Museum of Archaeology)
When a photo of Brad Pitt's mysterious tattoo surfaced on the Internet, savvy bloggers immediately recognized the sketch on his left forearm as the outline of "Ötzi," a 5,300-year-old mummy found in the Alps in 1991. The image generated some buzz in the world of Iceman studies. Horst Seidler, an anthropologist at the University of Vienna and president of the Iceman-Commission, was enthused: "I'm sure the Iceman feels honored to decorate an American celebrity, [like the] famous Mr. Pitt!"
The Iceman himself sports the world's oldest tattoos--a series of blue-black has marks and a "cross"--which may have inspired the actor to choose this unusual image. But when ARCHAEOLOGY contacted Pitt's publicist Cindy Guagenti for comment, she had "no idea" why he had chosen the gory tat.
Katharina Hersel, a spokesperson for the South Tyrol Museum of Archaeology in Bolzano, Italy, where Ötzi's remains are housed, told ARCHAEOLOGY that the museum would like to invite Pitt and his family for a visit. "If his tattoo is [real], he might be very interested to meet the original Iceman," she remarked. "Mr. Pitt is definitely a trendsetter. As archaeologists, we take note of that."


© 2007 by the Archaeological Institute of America
archive.archaeology.org/0709/trenches/brotzi.html
Share