Francis McManamon, National Park Service chief archaeologist, on his favorite site in the U.S. park system: Cape Cod's Nauset Bay


View from Cape Cod's Fort Hill (Jason Urbanus)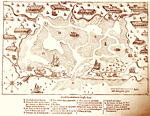 Samuel de Champlain's 1605 map of the area's Native American villages
Traveling north on Cape Cod's Route 6 you'll see signs for Fort Hill as you enter Eastham. On a clear, sunny day, no matter what season, the view from Fort Hill is beautiful and takes in all of Nauset Bay below. But most visitors who stop aren't aware they are looking at a nationally significant archaeological site.
Invisible beneath the grass, brambles, and shrubs are the artifacts of everyday life and the remains of thatched houses dating back thousands of years. After almost 30 years of working in the National Park Service, I would say that the Nauset Archaeological District's quiet beauty and sense of history make it my favorite site.
French explorer Samuel de Champlain visited Nauset in 1605 and left a rich account of the area, describing "a bay with wigwams bordering it all around." He also produced a remarkably detailed map of the harbor.
At the nearby Salt Pond Visitor Center there is a small display of artifacts and a copy of the Champlain map. With a little knowledge of the archaeology and a glance at Champlain's map, visitors standing on Fort Hill can easily imagine the settlements that once covered the landscape.


© 2007 by the Archaeological Institute of America
archive.archaeology.org/0707/trenches/destination.html
Share