Letter from Malawi: Living Rock Art
Volume 60 Number 4, July/August 2007
by Jonathon Reynolds
Looking for hidden sites and secret rites in rural Malawi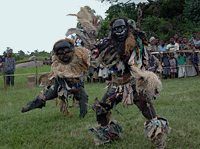 To the beat of drums and the voices of singing women, two Nyau dancers in Malawi tell stories and teach lessons through the Gule Wamkulu, or the "great dance." The dancers resemble figures at nearby ancient rock-art sites. (Jonathon Reynolds)
I wipe the sweat from my eyes and look up the path through the dense scrub to a huge granite boulder. Small caves on either side of it look like dark eyes staring at us as we hike to the rock art at the craggy Chentcherere outcrop in the central African country of Malawi. Around the edge of the boulder I see the rock art and my heart sinks. The site is spectacular—a 40-foot-wide granite surface covered with a crowd of white figures in all shapes and sizes, mixed in with very faint red geometric designs that look like ladders—but almost all of it is obscured by a cloud of black-and-white modern graffiti. Only the heads of the largest white figures break free of the scribbles onto the clean rock high on the wall.
Years ago, rock art inspired my interest in archaeology, so to see these paintings defaced is very upsetting—hundreds, perhaps thousands, of years of local history destroyed in a few years by the local equivalent of "Leroy was here!"
Jonathon Reynolds is a travel writer based in Ontario, Canada.


© 2007 by the Archaeological Institute of America
archive.archaeology.org/0707/abstracts/letter.html
Share