Inside a colonial merchant's house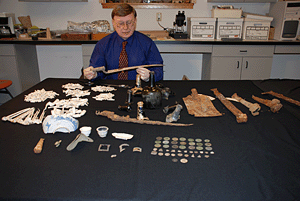 The author examines artifacts from the sutlery house in the laboratory of the Rogers Island Visitors Center. The bayonet he holds was well-preserved by fire, but the rusted bayonet in the foreground is more typical of finds in the deep, moist cellar. (Courtesy David Starbuck)
It is a hot July day in northern New York State, and I am standing in a deep, partially excavated cellar where some of my students and volunteers are patiently mapping wine bottles and tobacco pipes that were intended for sale to soldiers in the British army. Others are excavating the shallow dumps that once surrounded this building, discovering British and Spanish coins the soldiers used to buy alcohol, pewter buttons, or tobacco. Still others are sifting dirt to find a fragment that will help us reassemble a tea bowl or drinking glass. We are digging on the edge of a swamp and battling clouds of mosquitoes, just like the thousands of soldiers who camped nearby in the 1750s.
For five years we have been excavating a well-hidden site on the wooded east bank of the Hudson River in Fort Edward, New York. Our focus is a military camp where merchants, called "sutlers"--a name derived from the early modern Dutch word "soeteler," meaning a modest vendor--sold supplies to the British army at the largest encampment of the French and Indian War. Because archaeologists have, until now, paid little attention to those who sold goods to the military, this is one of the region's most important mid-eighteenth-century sites. We have discovered the remarkably preserved remains of a burned merchant's house that reflects the commerce between civilians and the soldiers who were serving their country far from home.
David Starbuck is an associate professor of anthropology at Plymouth State University in New Hampshire.


© 2007 by the Archaeological Institute of America
archive.archaeology.org/0707/abstracts/frenchindian.html
Share