What We Learn: The Princess of Chen's Necklaces
Volume 60 Number 2, March/April 2007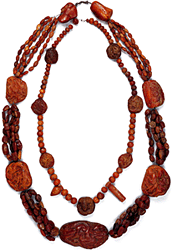 Photograph courtesy of the Cultural Bureau of Inner Mongolia Autonomous Region
When she died around A.D. 1018, the princess of Chen was given a lavish burial--as one would have expected for the granddaughter of an emperor--with a gold funerary mask, a silver mesh suit, jade ornaments, and precious glass, ceramic, and metal vessels. WHAT THEY ARE
Necklaces, the larger a multi-strand yingluo

CIVILIZATION
The Liao empire (a.d. 907-1125) of northern China; the dynasty, of nomadic heritage, ruled from Manchuria to the Altai Mountains

DATE
A.D. 1018 or earlier

DISCOVERED
Found in the tomb of the princess of Chen at Qinglongshan, Inner Mongolia, during a salvage excavation in advance of a dam project in 1986

MATERIAL
Amber imported from the Baltic Sea region

DIMENSIONS
Larger necklace: 5 feet, 3 inches Single-strand necklace: 3 feet, 8 inches Around her neck were two long strands of amber beads, in which can be read the character of the Liao dynasty to which she belonged. The Liao had come to power just a century earlier, and were still firmly rooted in the traditions of their forebears, the nomadic Khitan culture of the Asian steppes. But they readily borrowed from the cultural and artistic practices and religious beliefs of the peoples they had conquered or with whom they traded. Tests show that the amber, prized by the Liao who thought it had magical properties, came from the Baltic Sea region, likely through trade via the Uighur people of Central Asia. The larger of the two necklaces worn by the princess, a type known as a yingluo, has five strands of irregular beads with large spacer placques. Necklaces with beads and spacers, which originated in India, appear on Buddhist images there, in China, and at some Silk Road sites. The large spacers are carved with birds, fish, and flowers--auspicious Chinese motifs symbolizing wishes for good luck and happiness and serving as charms to ward off evil. On the smaller necklace there are two amulets, one heart shaped and the other long and narrow, on either side of one of the round spacers. Always found in such pairs and always associated with elite personages, these amulets are known from the Khitan nomads and their Liao dynasty descendants. When they are found in undisturbed contexts, such as the burial of the princess of Chen, the heart-shaped amulet is always to the deceased's right. What meaning the two amulets had for the Liao is not known, but in their design, motifs, and material, the necklaces attest the dynasty's eclectic character. For more on the Liao, see Asia Society's online exhibition.


© 2007 by the Archaeological Institute of America
archive.archaeology.org/0703/etc/learn.html
Share