An enterprising social studies teacher gives Florida high schoolers a heady dose of archaeology.
It is highly unusual for a public high school to offer full-credit courses in archaeology and anthropology. Yet three schools in Flagler County, Florida, have done just that thanks to Mat Saunders, who not only developed the curricula but arranged for five students to spend two weeks last summer excavating at the Maya site of Cahal Pech in western Belize. Saunders recently spoke to Archaeology about "giving kids a chance to experience a great science."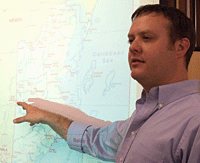 (Courtesy Mat Saunders)
How did the program originate?
Well, I worked for the Belize Institute of Archaeology for about five years. So I always talked about Maya archaeology with the kids in my class. And they kept asking, what about us? Do you think we could do it? I said, well it's not really for high-school kids. Then I thought about it some more and thought, why not?
How did you convince the school to let you do this?
It really helps when your superintendent is the one pushing you to do these kinds of programs. Mine thinks outside the testing scores and truly wants a genuine education for the kids.
How was the program financed?
The students paid their own way, and the county school board provided financial aid where needed.
Was it tough to get approval for high-school students to work in Belize?
I called Jaime Awe, the head of the Institute of Archaeology, and proposed it to him. He said, Mat, I don't think it's the right age. So I said, just let me try. I would supervise both his college students and mine if he let us come down. He was short-handed so he agreed to it. And the kids did a phenomenal job.
So in Belize, your high-school kids were working alongside college students. How did that go?
I think everyone at first thought they needed to baby the high-school kids. But during evening lectures it was so cool because my kids were asking more questions than the students from MIT.
What did they excavate?
We were working on a small mound structure with a possible staircase and the basal course of a superstructure.
Any major finds?
Oh yeah. In addition to two tombs, there were ceramic effigies, human remains, obsidian blades. The kids were beside themselves.
Not all kids that age would do well in that environment.
You can't take just any kid. You have to look at maturity. And you have to see they're excited about the work.
Did you take any good field trips?
Tikal was a big hit. And the Maya ritual Cave of the Stone Sepulchre really blew their minds.
What does your community think?
They're on fire about archaeology. We already have several companies willing to sponsor kids to participate next summer. And we're getting $10,000-plus in sponsorship donations for a workshop and lecture series in April.
It sounds like you're really committed to making this program grow.
I preach to everyone I come into contact with about how important it is to involve kids this age in archaeology.
Do you think more archaeologists should be teaching this age group?
Absolutely. I know so many great people who are trained who aren't using their degrees. And the thing is, it's not a bad gig. I have my summers off and Florida pays pretty well. I can get home by 3:00 every day. But I'm never going to be sporting a Maserati.
You wouldn't have, anyway.
Exactly.


© 2007 by the Archaeological Institute of America
archive.archaeology.org/0703/etc/conversation.html
Share