After 40 years of digging, a scientist now sees the past through Native American eyes.
| | |
| --- | --- |
| | At the site of a long-lost Spanish mission off Georgia's coast, archaeologist David Thomas excavates a 17th-century church. (Dennis O'Brien) |
Visit the island of St. Catherines, four miles off Georgia's coast, and you step into an ancient world. There are gloomy forests dripping with Spanish moss, shadowy pools where gators lurk, towering magnolia trees, wild hogs, and a zillion ticks that find you prime for feasting.
Owned by a private foundation and preserved for research and education, St. Catherines Island has lain virtually untouched since the end of the Civil War. It is a Manhattan-sized time capsule guarding the remains of 5,000 years of human occupation--from ancient mounds to a long-lost Spanish mission--and for the last three decades archaeologist David Hurst Thomas has been patiently picking its lock.
"All that archaeology is intact in a way that's just hard to find any place now," says Thomas, 61, curator of North American archaeology at New York City's American Museum of Natural History (AMNH). "There are sites everywhere."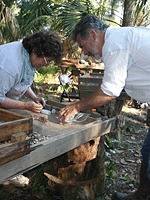 Lori Pendleton, Thomas's wife and collaborator for three decades, and Thomas screen soil from a recent mound excavation on St. Catherines Island. (Tom Gidwitz)
Last May, Thomas and his crew were making one of their frequent visits to St. Catherines. One team was on the island's north end, looking for sites threatened by erosion, and another was digging and sifting a 250-foot-wide buried ring of shellfish more than 4,000 years old. It may be a constructed monument, but even if it is only a pile of trash, the team is counting every seed, shell, and bone they find for insights into the daily lives of ancient Indians. One day Thomas studied the ring from on high, standing in a backhoe's raised scoop. A week later he descended into a telephone booth-sized pit to sketch its densely packed layers. "This is taking forever to dig," said Thomas, "and we're not going to rush it."
Painstaking analyses and assorted perspectives are Thomas's stock-in-trade. For years he has mixed trips to St. Catherines with expeditions to parched western deserts. And although he's an empiricist to his bones, he has urged fellow researchers to blend their data with the perspective of Native Americans, people who archaeologists once held at arm's length.
"Dave is a brilliant reflection of 30 years of change in archaeology," says colleague Larry Zimmerman of Indiana University-Purdue University Indianapolis. "Here's this hard-core scientist suddenly realizing there are other stories, there are other pasts, and he was missing something by not paying attention to them."
Thomas's approach to archaeology matters. Young researchers across the country start their careers under his guidance--his introductory textbook, long an undergraduate staple, is in its seventh edition. His office at the museum is down the hall from where Franz Boas helped establish American anthropology a century ago, and Thomas sits behind Margaret Mead's old desk. His wife Lori Pendleton, co-pilot of his archaeological enterprises, works nearby in Mead's former quarters, and Thomas has followed Mead's example and established an internship program that attracts a dozen applicants for every opening. Under his purview is a collection of more than one million objects, including 15,000 Indian skeletons that were dug up a century ago, remnants of what some have called American anthropology's original sin.
Tom Gidwitz is a contributing editor at ARCHAEOLOGY.


© 2007 by the Archaeological Institute of America
archive.archaeology.org/0703/abstracts/thomas.html
Share