We asked archaeologist Steve Lekson what ancient site is the best-kept secret in the American Southwest: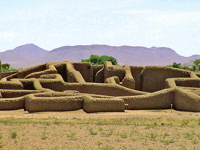 (Ken Feisel) [LARGER IMAGE]
That would be Paquimé--also known as Casas Grandes, 60 miles south of the U.S. border in Chihuahua, Mexico--perhaps the most remarkable site in the ancient Pueblo region. Dating from 1250 to 1450, Paquimé was the Southwest's largest and most cosmopolitan city, but remains largely unknown to the American public.
Its massive adobe walls rose three or even four stories high. Small pyramids and large ballcourts suggest close ties to the civilizations of Mesoamerica; Paquimé was where the Pueblo Southwest met Mesoamerica.
It's possible to visit Paquimé on a day trip from El Paso, Texas, or Columbus, New Mexico, but probably far better to spend several days, perhaps visiting the famous nearby pottery-producing village of Mata Ortiz. Try staying at Las Guacamayas ("The Macaws"), a B & B in the old town of Casas Grandes (lasguacamayas@msn.com). A small on-site museum displays artifacts and does an excellent job of describing Paquimé's role in the ancient history of northern Mexico and the American Southwest.


© 2007 by the Archaeological Institute of America
archive.archaeology.org/0701/trenches/destination.html
Share