Global apathy threatens a way of life and an unexpectedly rich heritage.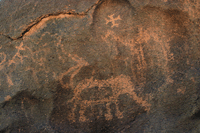 Etchings reflect a changing climate: the elephant an earlier, wetter one, and the camel a later, drier one. (Humboldt University Nubian Expedition) [LARGER IMAGE]
The Land Rover is stuck, and the Manoosir tribesmen aren't lending a hand. In Sudan, where African generosity meets Arab politeness, this means trouble. Even our easygoing Sudanese driver tenses. A few miles downstream from this dusty mud-brick town on a remote bend of the Nile River, Chinese engineers are building the massive Meroe Dam that as early as next year may flood the villagers' homes, fields, and more than 100 miles of fertile valley. And archaeologists working to save what they can of this largely unexplored region before the waters rise are not welcomed by the locals. With our car and our equipment and our pale skin, we are harbingers of the end of their way of life.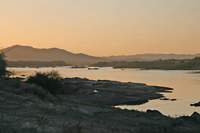 More than 100 miles of Nile Valley's Fourth Cataract region, part of the river marked by shoals and rapids, will be submerged. (Humboldt University Nubian Expedition) [LARGER IMAGE]
Unable to move forward through deep sand, we're forced to back up through a narrow alley as it fills with silent and unsmiling onlookers. But hospitality overcomes animosity, and an old man directs us to another dusty street, which leads to a slightly more passable sand track and the open desert beyond. Our driver guns it out of town. We'd been told in Khartoum not to stop while passing through Manoosir territory. A few months earlier, anger erupted on nearby Sherri Island when tribesmen--many of whom will be forced to relocate to barren desert--led marches and burned offices belonging to the dam project. In April, less than a month after our visit, militiamen killed and wounded more protesters in a bloody shootout in nearby Amri. And this past winter representatives of the Manoosir, who live on a long swath of the riverbank, politely but firmly told archaeologists to stay away. Foreign and Sudanese excavators are taking that advice seriously, and they are not sure if they can return.
The Meroe Dam already poses a humanitarian crisis. It will displace more than 50,000 people who live along this isolated region of the Nile, growing dates and herding sheep and goats. But the project is also creating a cultural heritage disaster largely ignored by the international media, UNESCO, and private preservation groups. Thousands--perhaps tens of thousands--of ancient sites are likely to vanish underwater as early as next year without even cursory examination.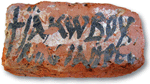 A Greek text on a foundation brick excavated at an early church site identifies the sanctuary as the Church of Jacob and Mary, mother of God. (Humboldt University Nubian Expedition) [LARGER IMAGE]
That impending destruction comes just as a half-dozen Sudanese and foreign teams discover that the obscure region was not the backwater archaeologists long imagined. During the past few seasons of hurried salvage work, the teams pinpointed hundreds of settlements and cemeteries spanning four millennia, rock art depicting everything from Neolithic giraffes, to Greek crosses, to an ancient pyramid. "We thought it was inhospitable and poor," concedes Derek Welsby, a British Museum archaeologist who has spent five seasons digging in the region and hopes to return this winter if the violence subsides. "But what we're finding causes us to rethink that. This area is so incredibly rich in archaeology."
Flooding will start in August 2007, though it will be not until 2008 or 2009 that large sections are underwater. With time short and larger forces at work, archaeologists are watching closely to see what they can rescue before it is too late. The Fourth Cataract--after a brief emergence into the archaeological limelight--seems destined to slip back into obscurity, this time for eternity.
Andrew Lawler, a staff writer for Science Magazine, lives in rural Maine.


© 2006 by the Archaeological Institute of America
archive.archaeology.org/0611/abstracts/sudan.html
Share