Mountaineering archaeologists reach new heights of discovery.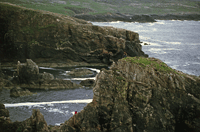 Archaeologist Ian McHardy stands atop one of Lewis island's many stacks, or coastal peaks. A surprising array of sites have been found in this forbidding terrain. (Phil Wickens) [LARGER IMAGE]
The rock crumbles in my fingers and my feet start to slide, but in a flash the rope goes taut, preventing me from plummeting into the sea below. I'm on Lewis, a windswept and wave-battered Hebridian island, at the most northwesterly corner of the United Kingdom, and I'm taking this precarious journey to reach a rocky pinnacle that juts out to sea, otherwise known as a sea stack. It's a huge effort to reach this small grassy outpost, but I'm far from the first human visitor.
Recent archaeological work has uncovered evidence that people used these rocky nobbles as far back as the Neolithic--7,000 years ago. The finds are overturning previous assumptions about Neolithic society and revealing what kind of people first inhabited these rocky shores.
Over the past five years, field archaeologist and qualified rope-access specialist Ian McHardy has been spearheading a project known as STAC--Severe Terrain Archaeological Campaign. With funding from Historic Scotland, Museum nan Eilean, and the Russell Trust, McHardy's four-person team has surveyed and excavated eleven of the hundreds of sea stacks scattered around the coast of Lewis. Until now, archaeologists have studied the easily accessed inland sites, but McHardy realized that the coast was being ignored and this was putting a bias in the record. Using rope-access skills he learned working on oil rigs, McHardy has been able to provide a more complete picture of life on the island in the past.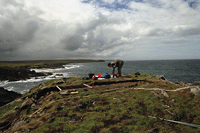 Excavations at Dunasbroc show that the stack was the site of enormous fires in the Neolithic. (STAC) [LARGER IMAGE]
Lewis lies at the end of the line, reached either by taking a one-hour flight from Edinburgh, Scotland's capital, or getting a ferry from Ullapool, a small town in the far northwest of Scotland. But the island, the largest of the Outer Hebrides, hasn't always been this isolated. "In the past it would have been bang on the highway, as people traveled mostly by boat," says McHardy.
"Sea stacks are 'wee' tiny islands, that tend to be cliffy, taller than they are wide and generally not joined to the land," explains McHardy. They are most common along the west coast of Scotland, carved out over thousands of years by crashing waves and ferocious winds. In 1980, an adventurous graduate student, Raymond Lamb, clambered onto some of the stacks and reported finding Iron Age remains, but otherwise the pinnacles were little studied by archaeologists until McHardy came along.
Kate Ravilious is a science writer based in Edinburgh, Scotland.


© 2006 by the Archaeological Institute of America
archive.archaeology.org/0611/abstracts/scots.html
Share