The "excavation" of a Nazi bomber exposes sabotage.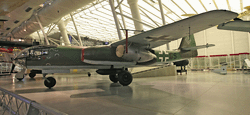 Today, the lone surviving Arado jet is displayed at the National Air and Space Museum. (Dennis Brack) [LARGER IMAGE]
To restore an aircraft to something approaching its original state of grace is a prospect both daunting and exhilarating; a process as frustrating as it is rewarding. The surveying and mapping by archaeologists of aerospace launch and crash sites can seem elementary when compared to the challenges faced by those who attempt to restore an aircraft to the way it looked at a certain time, in a certain place.
Karl Heinzel knows. When I met him some years ago at the Smithsonian's Paul Garber Restoration Facility in Suitland, Maryland, he had already been an integral part of aircraft restoration teams for more than 20 years. And like an archaeological detective, he and his colleagues have uncovered dozens of odd items embedded in the airframes. Take the case of the rock in the fuselage of a World War II German Arado 234 B-2 Blitz restored by Heinzel and his colleagues.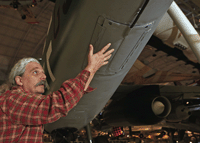 Karl Heinzel examines the Arado's parachute door. (Dennis Brack) [LARGER IMAGE]
The Nazis constructed 274 of these remarkable twin-jet bombers, and the only example that survives fell into American hands at the close of the war. U.S. Army Air Force General Henry "Hap" Arnold had ordered that a type specimen of every aircraft from the war be saved, the Arado was set aside at an Illinois storage facility until the start of the Korean War, when the Air Force told the Smithsonian to move the Arado or lose it.
It wound up in a wood-and-fiberboard box in Suitland, where like much of the World War II collection it sat outside for 20 years at the then-primitive facility until a Smithsonian restoration team was ready to tackle it. When Heinzel and his colleagues began to restore the hangar-rusted Arado in the 1980s, they simultaneously began to rewrite its history, based on the strange modifications they found inside the aircraft as they took it apart.
P. J. Capelotti is senior lecturer in anthropology and American studies at Penn State University Abington College in Abington. He is the author of Sea Drift: Rafting Adventures in the Wake of Kon-Tiki, Gods Meadow: A Summer of Poems on the Edge of Oslo Fjord, and a forthcoming textbook, The Exploring Animal: An Introduction to Archaeology from Seafarers to Spacefarers.


© 2006 by the Archaeological Institute of America
archive.archaeology.org/0611/abstracts/nazis.html
Share