War runs roughshod over a rich cultural heritage.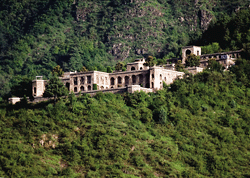 The 17th-century Pari Mahal, or palace of the Fairies, rises above Srinagar, the summer capital of Kashmir. (Basharat Peer) [LARGER IMAGE]
As a Muslim schoolboy in Kashmir in the mid-1980s, I visited Pari Mahal--the Palace of the Fairies--built in the seventeenth century by the liberal Mughal prince Dara Shikhoh. Its massive stone walls were dotted with arches leading to domed chambers, a pattern that was repeated on various terraces. Behind it rose the high peaks of the Zabarwan mountain range and below it spread Dal Lake and the city of Srinagar, the summer capital of Kashmir. Dara Shikhoh preferred scholarship to statecraft, inviting many learned men to his palace to translate ancient Hindu philosophy, religion, and literature texts into Persian and Arabic. My father told me these stories over and over because he wanted me to see Pari Mahal as a place of multiple religious traditions. But as a child I was keener to pose with my classmates for group pictures, play hide-and-seek on the ramparts, or watch the palace--strung, appropriately, with fairy lights--shimmer at night.
Like thousands of Kashmiri teenagers, I escaped the war after high school and in 1993 enrolled in college near Delhi. I became a journalist, reported on the conflict, and recently completed a book-length memoir. As a reporter my engagement with Kashmir was dominated by human tragedy, and like most others I forgot the neglect and destruction of culture. Now, in my late twenties, I realize how much those childhood visits meant to me, so I began retracing my visits to the monuments of Kashmir.
Over the past few years, as India and Pakistan began to talk about peace in fits and starts, some archaeological conservators are considering how to reclaim the heritage of Kashmir from war, weeds, and disrepair. At the Srinagar office of Indian National Trust for Art and Cultural Heritage, a Delhi-based conservation group, I met Abid Khan, a young architect. He and his colleagues have spent the last two years mapping and documenting the important buildings and archaeological monuments of Srinagar, but have not yet started any restoration work. They are lobbying for legislation to mark and protect such buildings--such as a medieval stone mosque in central Srinagar called Akhund Mullah--but so far have received only empty promises. "Because of the conflict, heritage conservation is not a priority for the government," said Khan.
Basharat Peer is a freelance writer and currently a Bollinger Presidential Fellow at Columbia University's Graduate School of Journalism.


© 2006 by the Archaeological Institute of America
archive.archaeology.org/0611/abstracts/letter.html
Share