With Frederick Douglass's help, the past and present come together on a Maryland plantation.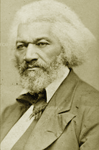 (National Portrait Gallery, Smithsonian Institution/Art Resource) [LARGER IMAGE]
In Talbot County, Eastern Shore, State of Maryland, near Easton, the county town, there is a small district of country, thinly populated, and remarkable for nothing that I know of more than for the worn-out, sandy, desert-like appearance of its soil, the general dilapidation of its farms and fences, the indigent and spiritless character of its inhabitants, and the prevalence of ague and fever. It was in this dull, flat, and unthrifty district or neighborhood, bordered by the Choptank river, among the laziest and muddiest of streams surrounded by a white population of the lowest order, indolent and drunken to a proverb, and among slaves who, in point of ignorance and indolence, were fully in accord with their surroundings, that I, without any fault of my own, was born, and spent the first years of my childhood.

--Frederick Douglass, Life and Times of Frederick Douglass (1881)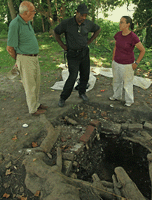 Archaeologist Mark Leone and site supervisor Jenn Babiarz show the site to Derek Lloyd, an engineer at Howard University who may be descended from slaves who lived on the farm. (Samir S. Patel) [LARGER IMAGE]
Under the boughs of a huge tulip poplar, buried among clumps of roots and piles of oyster shells, is the brick foundation of a building, a remnant of a once-thriving slave community. For 18 months in the early nineteenth century, it was home to a young Frederick Douglass, the future African-American statesman, diplomat, orator, and author. Here, at the age of seven or eight, a shoeless, pantless, precocious Douglass first saw whippings and petty cruelties. Here, he first realized he was a slave. "A lot of the horror that comes through his autobiographies is grounded in those months that he was there," says James Oakes, a historian at the City University of New York who is working on a book about Douglass's relationship with Abraham Lincoln. The modest excavation at Wye House Farm, a 350-year-old estate on Maryland's Eastern Shore, has yielded sherds, buttons, pipe stems, beads, and precious knowledge about everyday slave life, and is allowing the descendants of that slave community, many of whom live in the nearby rural African-American town of Unionville, to reclaim a lost cultural hertiage.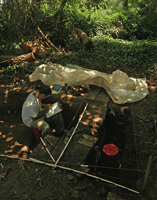 Pete Quantock, a University of Maryland student, profiles the site of a workshop, where slaves probably both slept and worked. (Samir S. Patel) [LARGER IMAGE]
A team of archaeologists and students started digging here in 2005 after archaeologist Lisa Kraus proposed the dig, on the basis of Douglass's descriptions of the site, to Mark Leone, director of the urban archaeology field school at the University of Maryland. Before beginning the excavation, Leone approached St. Stephen's African Methodist Episcopal Church, the social and religious center of Unionville, to ask what the people of the community wanted to learn from the archaeology. "You should ask the people who think it's their heritage what they want to know about it," Leone says. "The answers automatically dissolve the difference between then and now." This, he adds, is the heart of social archaeology, working with descendant communities and understanding that the past and present inform one another. The people of Unionville wanted to know about slave spirituality, what remained of African life, how the owner of the slaves did or did not support freedom, and how slaves found the strength to survive. They are questions a single dig is unlikely to answer, but they have opened an avenue of dialogue between the archaeologists and the people to whom their work matters most.
Samir S. Patel is an associate editor at ARCHAEOLOGY.


© 2006 by the Archaeological Institute of America
archive.archaeology.org/0611/abstracts/douglass.html
Share