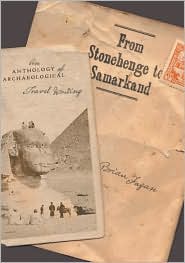 If you judge the value of a book by the doors it opens, you'll appreciate From Stonehenge to Samarkand: An Anthology of Archaeological Travel Writing (Oxford University Press, $35.00). It is the latest by Brian Fagan, a frequent contributor to ARCHAEOLOGY. Good archaeological travel writing, says Fagan, is "an interesting mix of the prosaic and the romantic, the scientific and the evocative. What comes across most of all is a pervasive sense of wonderment, of surprise and delight."
Generally, Fagan's selection is good. For example, Philip Van Ness Meyers's account of Palmyra in 1870 reads: "As it was raining, and our soldiers were unprovided with tents, we remounted, and rode all night through a severe storm, which at times swept the desert with snow and hail. In the gray light of morning we discovered the tower-tombs of Palmyra, standing like spectres in the pass."
But I'd gladly have sacrificed all of Herodotus, to whom Fagan devotes most of a chapter, to get in some early European travelers. The selections skip from the droning fifth-century B.C. historian directly to eighteenth-century authors. A few important works such as Samuel Purchas's Pilgrimage or Relations of the World (1613) don't make the cut. Henry Maundrell's A Journey from Aleppo to Jerusalem at Easter, A.D. 1697 is also omitted, though it has fine descriptions of the region and the great temple at Baalbek. Instead, Fagan quotes Robert Byron, who penned an overheated account of Baalbek in the 1930s.
The book is strong with writers of the eighteenth through mid-twentieth centuries, but articles published on the Internet are omitted entirely, though there are some serious articles by well-known authors in cyberspace. Check, for example, World Hum (www.worldhum.com).
Of course, one could spend hours debating what to include in or omit from a book such as From Stonehenge to Samarkand, but Fagan has brought together many of the classics and some of the more obscure examples. From the Inca Trail to the Silk Road, it's a great gateway to many places and many times.
Mark Rose is the Archaeological Institute of America's online editorial director.
Click here for ARCHAEOLOGY's bookstore.


© 2006 by the Archaeological Institute of America
archive.archaeology.org/0609/reviews/travel.html
Share