An enthusiast was so convinced that a farmer's plot hid a medieval city, he bought it.
Stuart Wilson made headlines when excavations made a convincing case for the identification of the "lost" city of Trellech, a large medieval Welsh city that professional archaeologists had been seeking for decades. But what was as newsmaking as the discovery was how the 27-year-old former toll collector, who holds an undergraduate degree in archaeology from York University, made it. Archaeology talked to Wilson, an active member of his local archaeology society, about taking big risks and staking independent claims.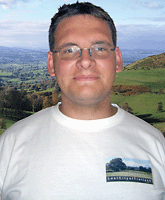 (Courtesy Stuart Wilson)
When and how did you first learn of Trellech? What interested you about it?
In 2002, a man named Jonathan Badham contacted the Monmouth Archaeological Society, suggesting that we investigate his land. He had found lots of medieval pottery in molehills and knew of our treasurer's idea that the medieval city lay to the south of present-day Trellech and thus over his land. Up until then, a nearby university had been trying to find the medieval city right under the modern town. So I volunteered for a one-day dig, which turned into a lifetime of discovery.
And you ended up buying the site?
Well, after the first two excavation seasons, in which we found a house site that seemed to confirm the location of Trellech, I was becoming increasingly interested. I knew that the third season would be the last because Jonathan's mother, who owned the land, wanted a quieter life. I was ready to ask a farmer who owned the field opposite the dig whether I could sublease some of his land when he informed me it was up for auction.
You managed to scrape up £32,000 ($59,000)-roughly one-third in savings and the rest in a bank loan. Why did you want that particular spot of land so much?
If the location theory was right, then this field would incorporate most of the east side of old Trellech's main street. The moles there were also turning up medieval pottery. I thought that if they're blind and can still find medieval pottery, so can we.
What is the most surprising discovery you've made so far?
How large and well intact the buildings are. The walls are fully intact, and floors, drains, road surfaces, cobbled pavements, entrances, and now a fireplace with a chimney and a courtyard have all been found.
What does your family think of your purchase?
My family thought it was a good investment, knowing how much I loved doing archaeology, and were very supportive. Though, as my mum said, if you don't find anything, at least it is still a nice place to have a picnic.
How do you support yourself now?
Recently I resigned from being a toll collector to see if I can make more money out of my archaeology. I've also set up an eBay shop where I work on another of my interests, which is historical manuscripts.
What do other archaeologists think of your project?
Most other archaeologists have been generally supportive but many were at first skeptical. This was because the University of Wales, Newport, claimed that they had already found medieval Trellech and therefore I was digging in the wrong place.
How long do you think this project will take?
To dig my field will probably take about 50 years, so basically the rest of my life. But my field is only one part of the city, which will take a lot longer to excavate.
Do you plan to purchase any more land?
Yes, I would like to buy more to dig, or at least to protect, so that it would be available for excavation at some later point. My field is just one of many that hold parts of the medieval city within it and there are many other pieces of land near Monmouth that would make for excellent research digs if someone had the time.
Visit the excavation online at www.lostcityoftrellech.co.uk.


© 2006 by the Archaeological Institute of America
archive.archaeology.org/0609/etc/conversations.html
Share